This store requires javascript to be enabled for some features to work correctly.
WHY BUY OUR VITAMIN C ZINC GUMMIES?
---
We offer 60 yummy sugar free gummies per bottle which will last you 2 months (60 days). Serving size is 1 vitamin c and zinc gummy per day. Our premium gummies are made using only quality ingredients which have been manufactured in Europe (not China). They contain no GMO ingredients
Our tasty gummies offer two essential nutrients, Vitamin C and Zinc which both work to protect cells from oxidative stress and therefore help support your immune system. Vitamin C and Zinc both contribute to the normal function of the immune system as substantiated by the EFSA (European Food Safety Authority). Our great tasting orange flavoured gummies provide 80mg of Vitamin C as Ascorbic Acid (100% daily NRV) and 2.5mg of Zinc per 1x gummy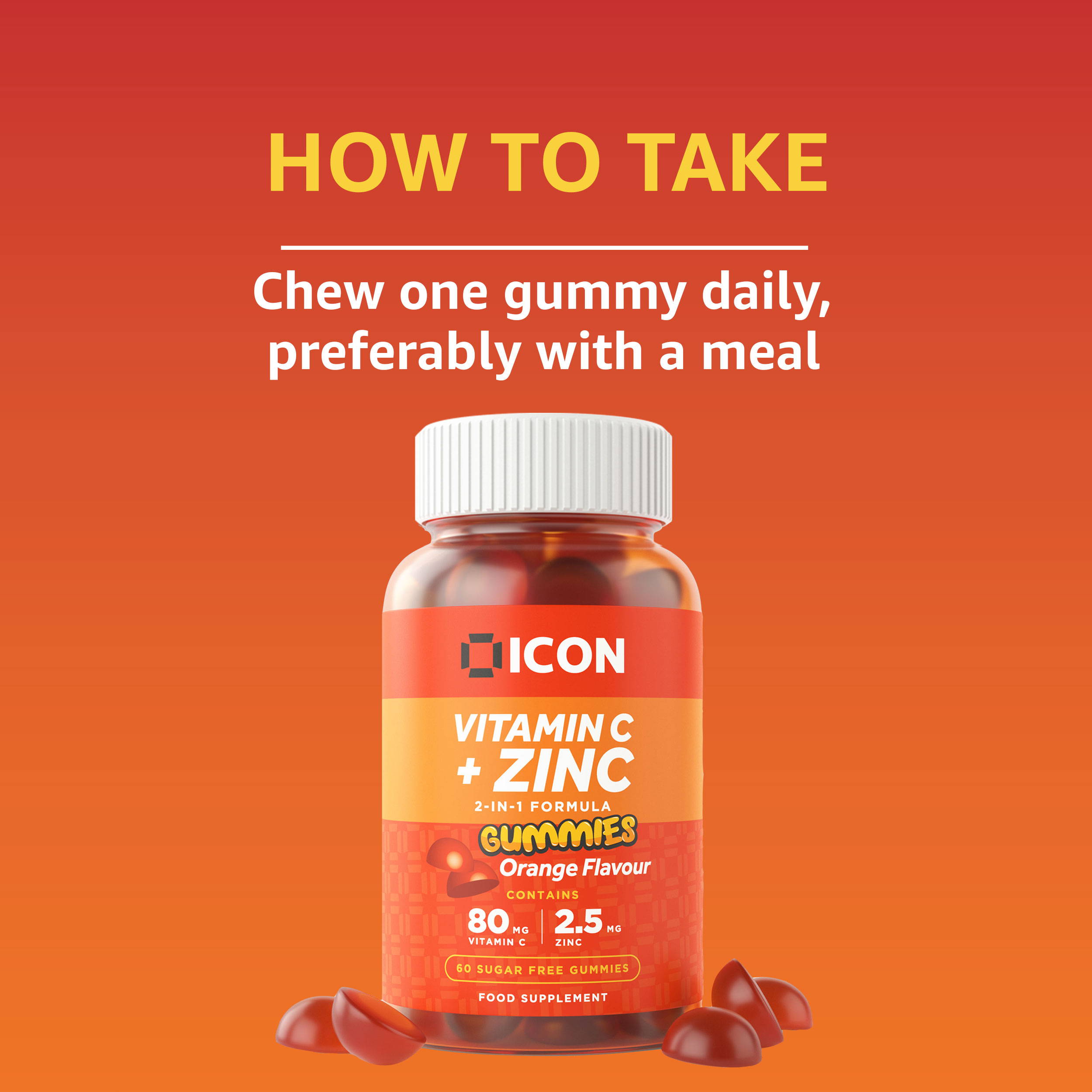 NOURISHES THE IMMUNE SYSTEM
Vitamin C is a vital nutrient for the functioning of white blood cells in the body
ANTIOXIDANT HEALTH
Because Zinc can function as an antioxidant within the body, ICON Nutrition's Vitamin C Plus Zinc supports both immune system and antioxidant health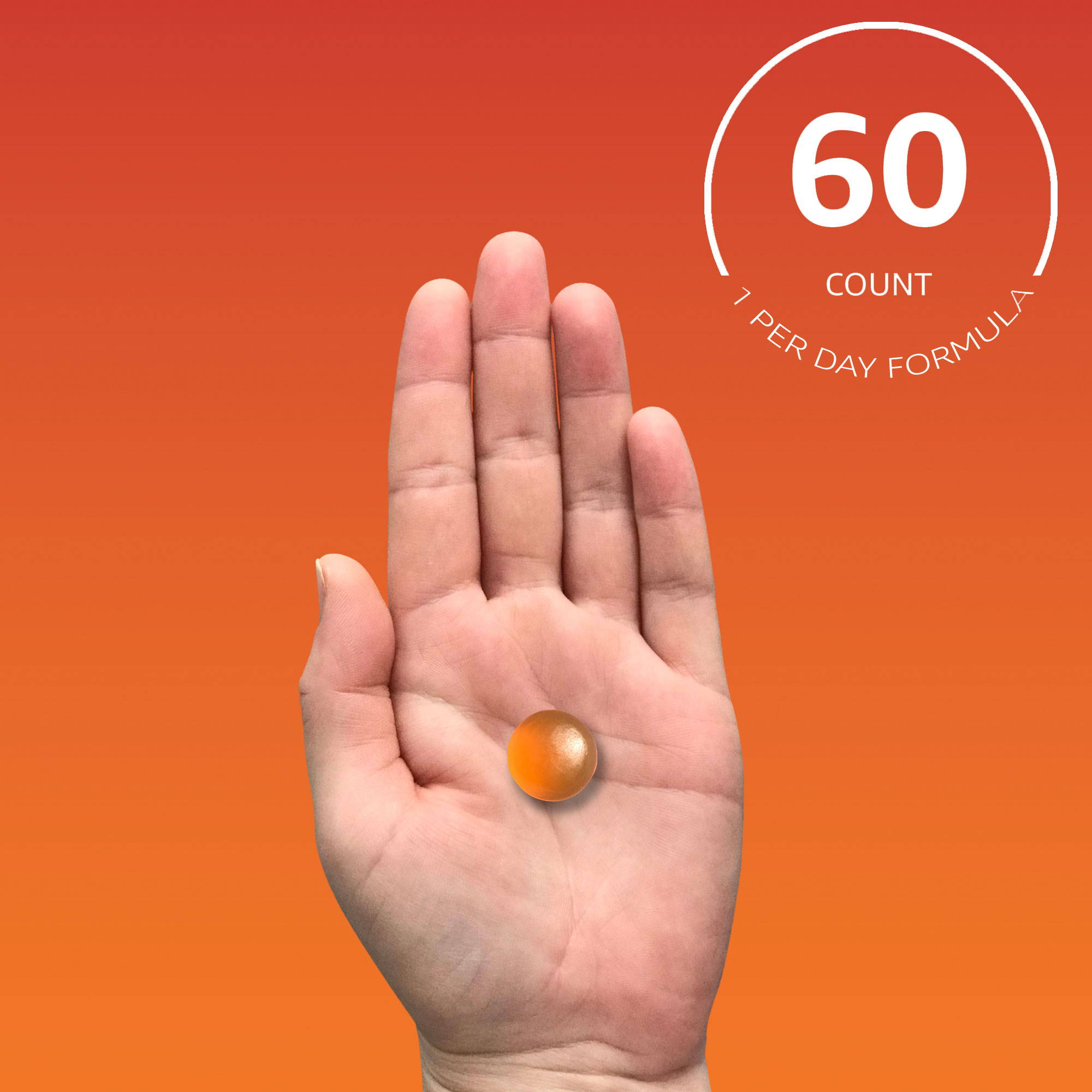 Our gummy immune system vitamins offer a tasty and family friendly way to supplement your daily Vitamin C and Zinc levels. Our soft and chewy gummies come in a delicious zingy orange flavour. Ideal for individuals who are unable to swallow capsules or tablets whole. Also perfect for those with busy lifestyles who may forget to take their daily vitamin supplements
Ingredients: 
Sweetener malitol syrup, gelatin, L-ascorbic acid, acid citric acid, colouring food (concentrate of carrot and apple), natural orange flavouring, vegetable oil (coconut, rapeseed), zinc sulfate, sweetener sucralose, glazing agents carnauba wax and beeswax. 
Suggested Use: 
Adults and children over 12 years of age, take 2 gummies daily preferably with a meal, or as otherwise directed by a healthcare professional. The gummies should be chewed before swallowing. 
Caution: 
Do not exceed the recommended daily intake.

 

Not suitable for very young children.

Not sure for vegetarians or vegans.

 

Always consult your healthcare professional before taking any food supplements, especially if you are taking medication or have an existing medical condition.

 

Not suitable for pregnant or breastfeeding women unless advised by your healthcare professional.

 

Food supplements should not be used as a substitute for a varied and balanced diet and healthy lifestyle.

 

Undesired effects from this supplement are rare. Please discontinue use and contact your healthcare professional immediately in the even of an adverse reaction.

 

Storage: 
KEEP OUT OF DIRECT SUNLIGHT, STORE IN A COOL AND DRY PLACE. 
KEEP OUT OF REACH OF YOUNG CHILDREN. DO NOT USE IF THE SAFETY SEAL IS OPEN OR DAMAGED.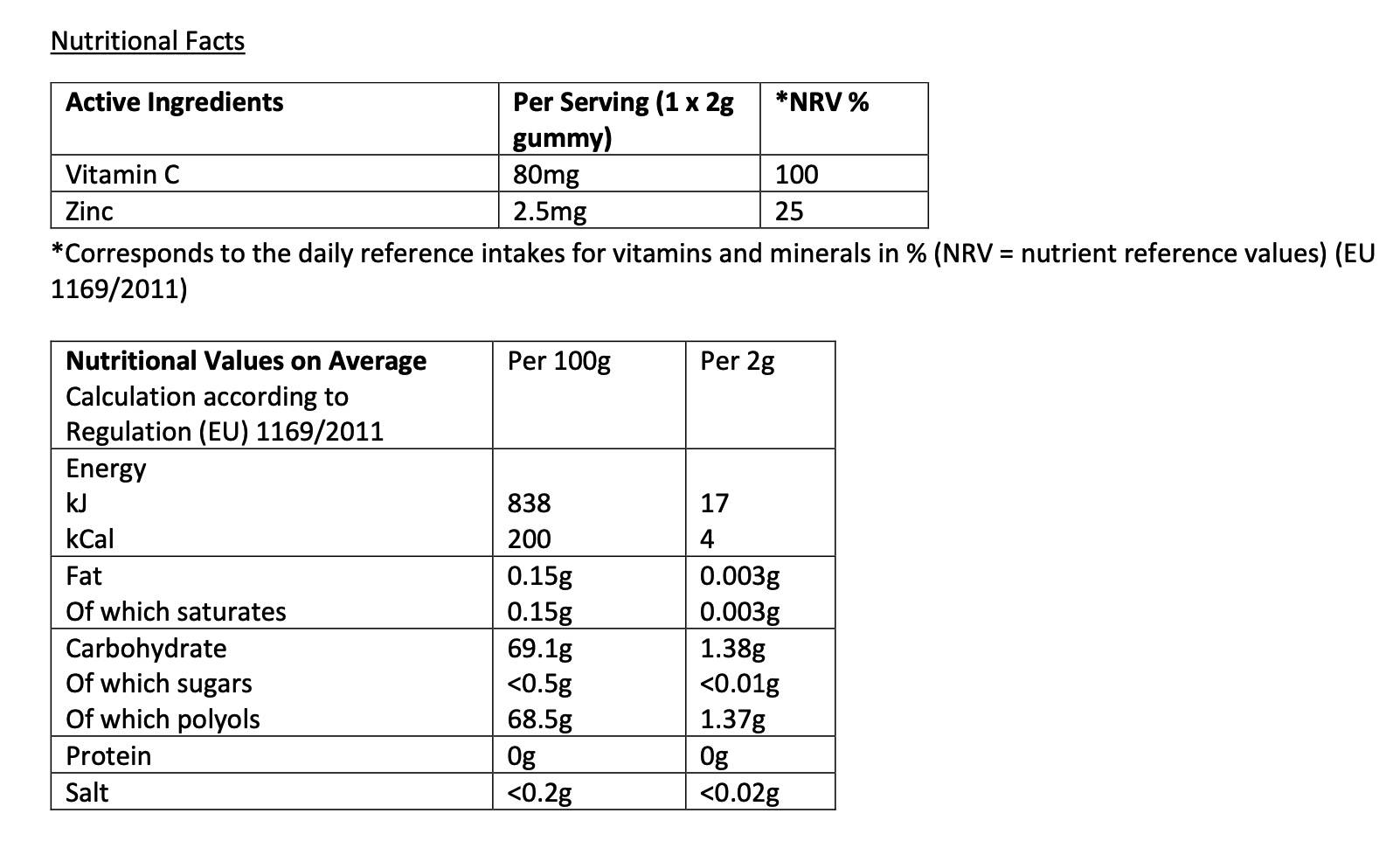 Let customers speak for us
Top product!
Fast delivery, great taste (cookies & cream protein powder) and easy to mix, no lumps with minimal shaking
Vitamins
Hi I was recommended icon by my best friend, as I'm suffering with various ailment , and was told I needed certain vitamins, by the doctor, I have been using the products including zma for a couple of weeks now and I'm starting to feel the benefits 😊 great customer service and received my vitamins promptly after order placed! one happy customer
Lovely tasting protein
Always get great service from icon and the molten chocolate protein is delicious
WHEY PROTEIN, MOLTEN CHOCOLATE
After trying a number of different brands for 100% grass fed whey protein powder I can highly recommend the Molten Chocolate flavour from Icon Nutrition. The ingredients are super clean and not nasties. It's easy to mix with water on it's own or in a smoothie with milk/oat milk, banana, ground oats and frozen raspberry! I especially like the 2.27kg tub and the price which is way lower than other brands. Just about to place my second order now.
Tastes great
White choc hibernate is excellent...prompt delivery!!
Incredible Protein Powder
Purchased the Strawberry flavoured protein. Incredible taste and mixes well with all milks and water.
Quality is miles better than the usual suspects.
Incredible Protein
This protein tastes great and mixes well with both plant milk, cows milk and even water.
Brilliant service too.
Best Creatine I've ever used.
I have been using Creatine Performance for over 3 months and I can definitely feel the difference in results compared to other creatine I've used.
Top supplements
I don't go anywhere else for my gym supplements. The protein powder tastes great in all the flavours I've tried, it also digests really well. The pre workout does a great job. Very happy with my purchases.
Pre workout
Reduced price stock but had none of the issues that were highlighted , mixed well with excellent results for a focused workout
100% whey protein chocolate peanut butter flavour
Great tasting and very good value for money
Chocolatey or not?
I've tried the Cinnamon Vanilla Swirl, Cookies & Cream and Chocolate Peanut Butter flavours before, so I've gone for Molten Chocolate this time. To me, they all taste fairly similar - of protein powder :D This one is OK, but is no more chocolatey than the Chocolate Peanut Butter one. It serves its purpose in terms of getting the protein though. I think a Vanilla on its own would be nice.
Taste
Great tasting protein powder.
Lovely protein powder
Excellent tasting protein and extremely quick service.
Highly recommend
Not too bad need a little bit more orange flavor