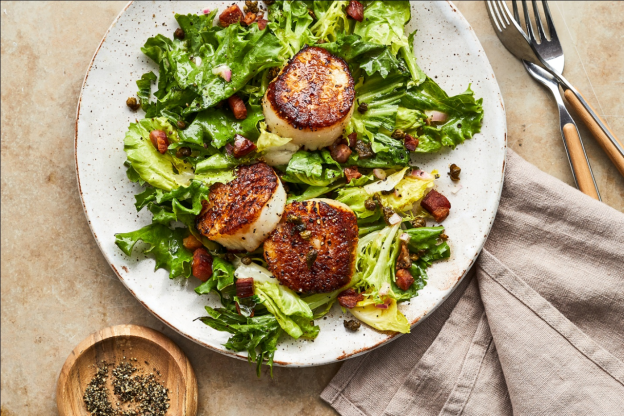 This scallop salad is inspired by the French salad frisée with lardons.
MAKES 4 SERVING/ TOTAL TIME 20 MINUTES
INGREDIENTS
2 tablespoons finely chopped shallot
2 tablespoons white-wine vinegar
1 teaspoon Dijon mustard
5 tablespoons extra-virgin olive oil, divided
2 heads escarole or frisée, chopped (about 4 cups)
1 large head green-leaf lettuce, chopped (about 6 cups)
⅓ cup diced pancetta
2 tablespoons nonpareil capers, rinsed and patted dry
12 ounces sea scallops, patted dry
½ teaspoon cracked pepper, divided
METHOD
Whisk shallot, vinegar and mustard together in a small bowl. Add pancetta to a cold medium skillet; place over medium heat. Cook, stirring occasionally, until the pancetta is crispy, 6 to 8 minutes. Using a slotted spoon or tongs, transfer the pancetta to a paper-towel-lined plate. Do not wipe the pan. Add 2 tablespoons oil to the pan and increase the heat to medium-high. Add capers; cook, stirring often, until the capers are crispy and some have broken open, 2 to 3 minutes. Using a slotted spoon or tongs, transfer the capers to the plate with the pancetta. Pour the hot oil from the pan over the lettuces, tossing to combine.
Return the skillet to medium-high heat and add the remaining 1 tablespoon oil. Sprinkle scallops with 1/4 teaspoon cracked pepper and cook, undisturbed, until golden brown, about 3 minutes per side. Remove from heat. Add the shallot dressing, pancetta and fried capers to the lettuces and gently toss to combine. Arrange the salad on individual plates or a platter and top with the scallops. Sprinkle with the remaining 1/4 teaspoon pepper.
Nutrition Value
313 Kcal,
21g fat,
4g saturated fat,
10g fiber,
17g protein,
15g carbs