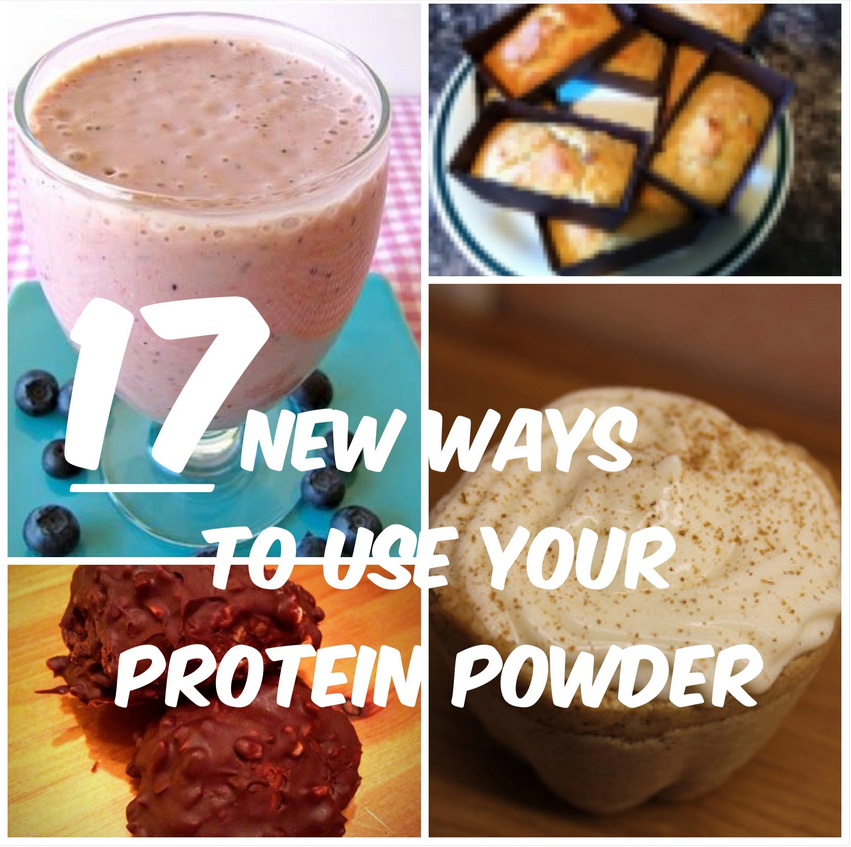 17 New Ways To Use Your Protein Powder by ICON Nutrition
Are you ready to try new things? Then you've come to the right place. We've stacked up 17 new ways to use your whey protein powder. 

1. Protein Latte: Try this quick and simple morning cookies and cream protein latte. There's no better way to start the day then to the tune of coffee and protein. 

2. Porridge Oats: Add 1 scoop of chocolate protein powder to your morning porridge oats to give them a protein and flavour boost. Also works with cookies and cream or cinnamon vanilla swirl protein powder too.

3. Cookies: This protein cookie recipe makes 36 cookies with each one providing 5g of quality protein. 

4. Yogurt: Stir 1 scoop of protein powder in with your favorite yogurt. You can top it with nuts and fruit. 

5. Smoothies: If you have a blender then there's nothing better than throwing some fresh ingredients together along with some extra protein powder and having yourself a tasty and refreshing protein smoothie. Here's two recipes, a high protein smoothie and a fruit smoothie packed with our awesome Strawberry Milkshake flavoured whey protein powder. 
VIEW RECIPE

6. Brownies: These are not just normal brownies, they are low GI sweet potato protein brownies that taste incredible. 1 brownie provides 5.6g of premium protein. 
VIEW RECIPE

7. Mini pecan loafs: You need to try these home made mini chocolate pecan and protein loafs, they're super delicious:

VIEW RECIPE
8. Cupcakes: Cup cakes just got better with the addition of our cinnamon vanilla swirl protein powder. These tasty protein cupcakes are definitely worth a try. 

VIEW RECIPE

9. Hazelnut brownies. You can never have enough brownie recipes. Using some very healthy ingredients these protein chocolate hazelnut brownies are going to make your mouth drool for more.
VIEW RECIPE

10. Cakes: This chocolate and coconut protein brittle cake is just heavenly. Or try this amazing protein beetroot cake, a favourite in the ICON office.
VIEW RECIPE - PROTEIN BEETROOT CAKE
VIEW RECIPE - PROTEIN BRITTLE CAKE

11. Pancakes: Everybody loves pancakes but if there's one thing we love more it's this protein banana pancake recipe. Using only a few simple healthy ingredients these will become a daily ritual if you try them once.

12. Ferrero Rochers: When we first tasted these we were SHOCKED how good they are. Using our chocolate grass fed whey protein powder along with a few other healthy bits these protein protein ferrero rochers are simple to make and taste incredible. 
VIEW RECIPE




13. Oat cakes: These protein oat cakes are perfect for throwing in a Tupperware and taking with you to snack on during the day when energy levels are low. 
VIEW RECIPE

14. Mousse: This chocolate muscle building protein mousse recipe is simply to die for. 
VIEW RECIPE

15. Mug cake: This super easy to make healthy protein mug cake is a dieters delight. 

16, Bowl Cake: Similar to the mug cake this requires some coconut milk, chocolate protein powder, walnuts, gluten free baking soda, and 1 banana. Add 1/3 of a 400ml tin of coconut milk in a bowl. Stir in 1 scoop of chocolate protein powder. Then add a small pinch of baking powder and a hand full of almonds. Mix well. Place in the microwave for 45-60 seconds or until it reaches desired consistency. Top with a cut up banana and enjoy! 


17. Ice cream: Mix one six ounce container of total greek yogurt along with 1-2 scoops of protein powder. Mix well, then freeze. Continue to stir every 20 minutes until it reaches your desired consistency which usually takes around an hour. 


How do you use your protein powder? Leave a comment below, we'd love to hear from you. 

If you think your friends would like this post, why not share it using the share buttons below.