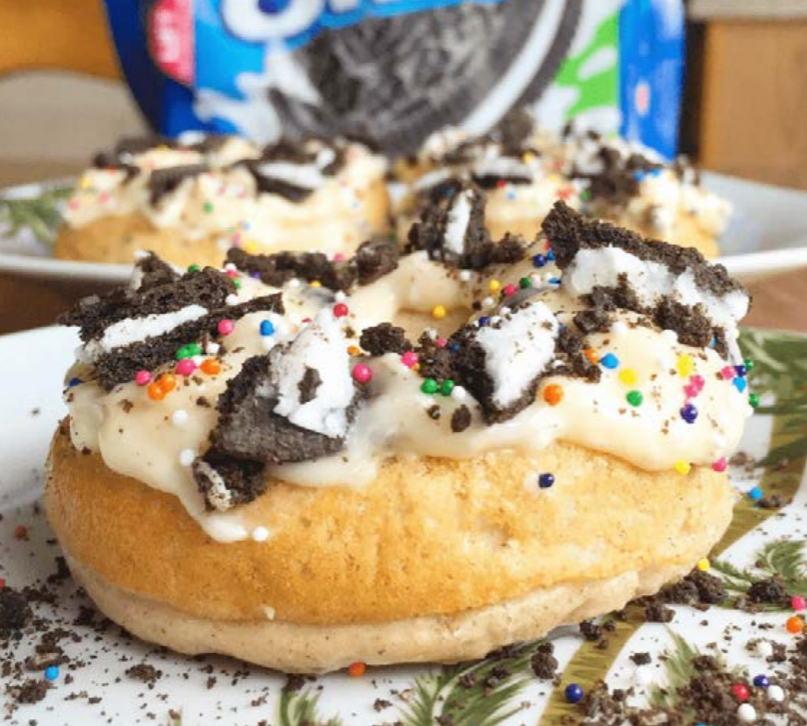 Oreo Cheesecake High Protein Donuts
6 Servings Per Recipe
Amount Per Serving (One Donut w/ Toppings)
Calories 68.75
Total Fat 0.75g
Total Carbohydrates 7g
Protein 8.5g

INGREDIENTS:

FOR 6 DONUTS
40g All Purpose Flour (can sub with Gluten Free Flour)
31g ICON Nutrition Grass Fed Whey Protein (Cinnamon Vanilla Swirl)
92g Egg Whites
3g Stevia
3g Vanilla Extract
3g Baking Powder
Unsweetened Vanilla Almond Milk as needed

FOR PROTEIN ICING
10g ICON Nutrition Grass Fed Whey Protein (Cinnamon Vanilla Swirl)
3g Coconut Flour
30g Plain Non fat Greek Yogurt
2g Zero Cal Sweetener of your choice
10ml Cold Water
OPTIONAL TOPPING
½ Crushed Oreo on top of each donut
DIRECTIONS:

1. Preheat your oven to 180 Celcius / 350 degrees F. Mix all of your wet donut ingredients in a bowl and your dry ingredients in a separate bowl. Add your dry ingredients to your wet and mix. Slowly mix in your almond milk until you get a thick, but not too thick batter. Think of a pancake batter-like consistency.
2. Spray your donut pan with nonstick butter spray and add the batter to each donut mold. Make sure not to fill them all the way up since the donuts will rise when cooking.
3. Let your donuts cook in the oven for 8-10 minutes and watch them rise. When they're done, add them to your cooling rack to ensure they cool evenly to room temperature.
4. Now you'll make your protein icing. Add your greek yogurt to a bowl, then add your dry ingredients on top and mix until you get an extremely thick consistency. Mix in 10ml of cold water until you get a thick frosting-like consistency. If you need to add more, that's okay. If you accidentally add too much, put your bowl in the freezer for 5-10 minutes to thicken.
5. Drizzle your icing on your donuts and add any other toppings your heart desires!