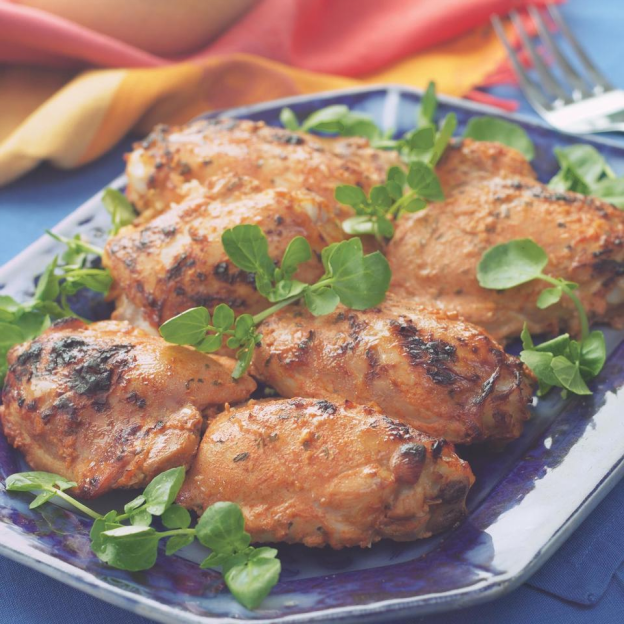 The acidity of the yogurt helps tenderize the chicken and keep it moist
. 
MAKES 4 SERVING/ TOTAL TIME 1 HOUR 40 MINUTES
INGREDIENTS
8 bone-in chicken thighs, (about 3 1/2 pounds total), skin removed, trimmed
1 tablespoon lemon juice
1 cup low-fat plain yogurt
2 cloves garlic, minced
1 tablespoon minced fresh ginger
2 teaspoons hot paprika
1 ½ teaspoons dried mint
½ teaspoon salt
METHOD

STEP 1

Place chicken in a large bowl. Add lemon juice and toss to coat. Whisk yogurt, garlic, ginger, paprika, mint and salt in a separate bowl. Pour the yogurt mixture over the chicken and stir to coat. Cover with plastic wrap and refrigerate for at least 1 hour or up to 24 hours.
STEP 2
Position rack in upper third of oven; preheat broiler. Remove the chicken from the marinade (discard marinade). Place the chicken on a broiler rack and broil until browned on top, about 15 minutes. Reduce oven temperature to 400 degrees F and bake until the chicken is juicy and just cooked through, about 15 minutes longer.
Nutrition Value
146 Kcal,
4.7g fat,
1.4g saturated fat,
0.2g fiber,
21.8g protein,
2.9g carbs