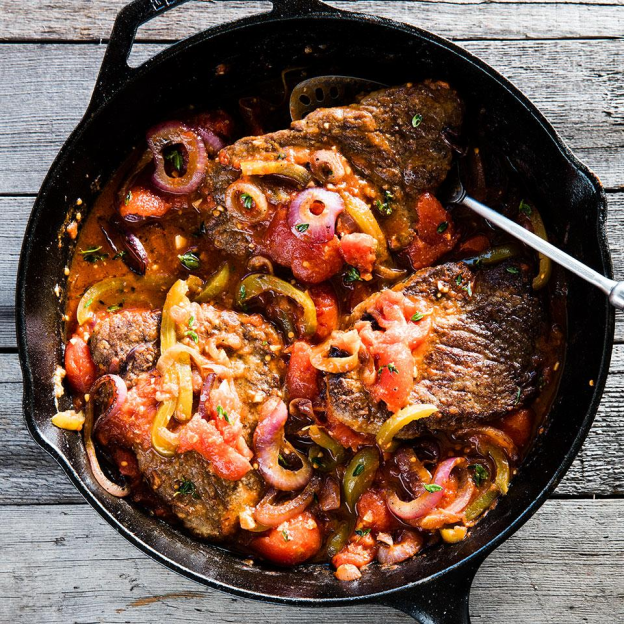 This weeknight-fast Swiss steak recipe is made on the stovetop in just 30 minutes
MAKES 4 SERVING/ TOTAL TIME 30 MINUTES
INGREDIENTS
4 cube steaks (1-1 1/4 pounds total)
½ teaspoon salt, divided
¼ teaspoon ground pepper
¼ cup all-purpose flour
2 tablespoons extra-virgin olive oil, divided
1 large onion, cut into 1/2-inch-thick slices (don't separate)
1 medium green bell pepper, thinly sliced
1 clove garlic, minced
1 teaspoon chopped fresh thyme
1 14-ounce can whole tomatoes
1 tablespoon Worcestershire sauce
METHOD

STEP 1

Preheat oven to 200 degrees F. Sprinkle steaks with 1/4 teaspoon salt and pepper. Place flour in a shallow dish and dredge the steaks in it.
STEP 2
Heat 1 tablespoon oil in a large skillet over medium-high heat. Reduce heat to medium and cook the steaks until browned, 2 to 4 minutes per side. Transfer to a baking sheet and keep warm in the oven.
STEP 3
Heat the remaining 1 tablespoon oil in the pan over medium-high heat. Add onion slices and cook, turning once and pressing with a spatula a few times, until browned on both sides, 4 to 6 minutes total. Stir in bell pepper, separating the onion rings as you stir, and cook, stirring occasionally, until the vegetables are tender, 3 to 4 minutes. Stir in garlic, thyme and the remaining 1/4 teaspoon salt; cook, stirring, for 15 seconds. Add tomatoes with their juice and Worcestershire. Cook, stirring, breaking up the tomatoes and scraping up any browned bits, until thickened, about 5 minutes. Serve the sauce over the steaks.
Nutrition Value
361 Kcal,
16.1g fat,
4.1g saturated fat,
3g fiber,
39.2g protein,
15.8g carbs