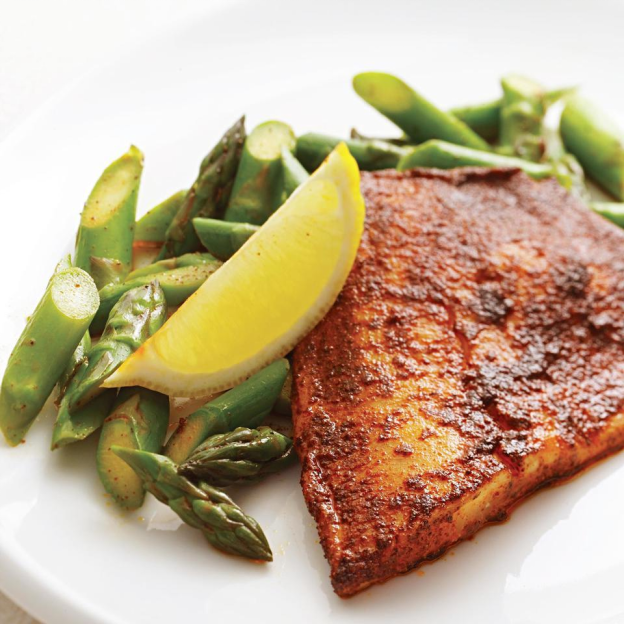 CHILI-RUBBED TILAPIA WITH ASPARAGUS & LEMON
Tilapia, a relatively plentiful fish, has the unfortunate reputation of being dull.
MAKES 4 SERVING/ TOTAL TIME 20 MINUTES
INGREDIENTS
2 pounds asparagus, tough ends trimmed, cut into 1-inch pieces
2 tablespoons chili powder
1/2 teaspoon garlic, powder
½ teaspoon salt, divided
1 pound tilapia, Pacific sole or other firm white fish fillets
2 tablespoons extra-virgin olive oil
3 tablespoons lemon juice
METHOD

STEP 1

Bring 1 inch of water to a boil in a large saucepan. Put asparagus in a steamer basket, place in the pan, cover and steam until tender-crisp, about 4 minutes. Transfer to a large plate, spreading out to cool.
STEP 2
Combine chili powder, garlic powder and 1/4 teaspoon salt on a plate. Dredge fillets in the spice mixture to coat. Heat oil in a large nonstick skillet over medium-high heat. Add the fish and cook until just opaque in the center, gently turning halfway, 5 to 7 minutes total. Divide among 4 plates. Immediately add lemon juice, the remaining 1/4 teaspoon salt and asparagus to the pan and cook, stirring constantly, until the asparagus is coated and heated through, about 2 minutes. Serve the asparagus with the fish.
Nutrition Value
211 Kcal,
9.7g fat,
1.8g saturated fat,
3.9g fiber,
26.1g protein,
7.8g carbs