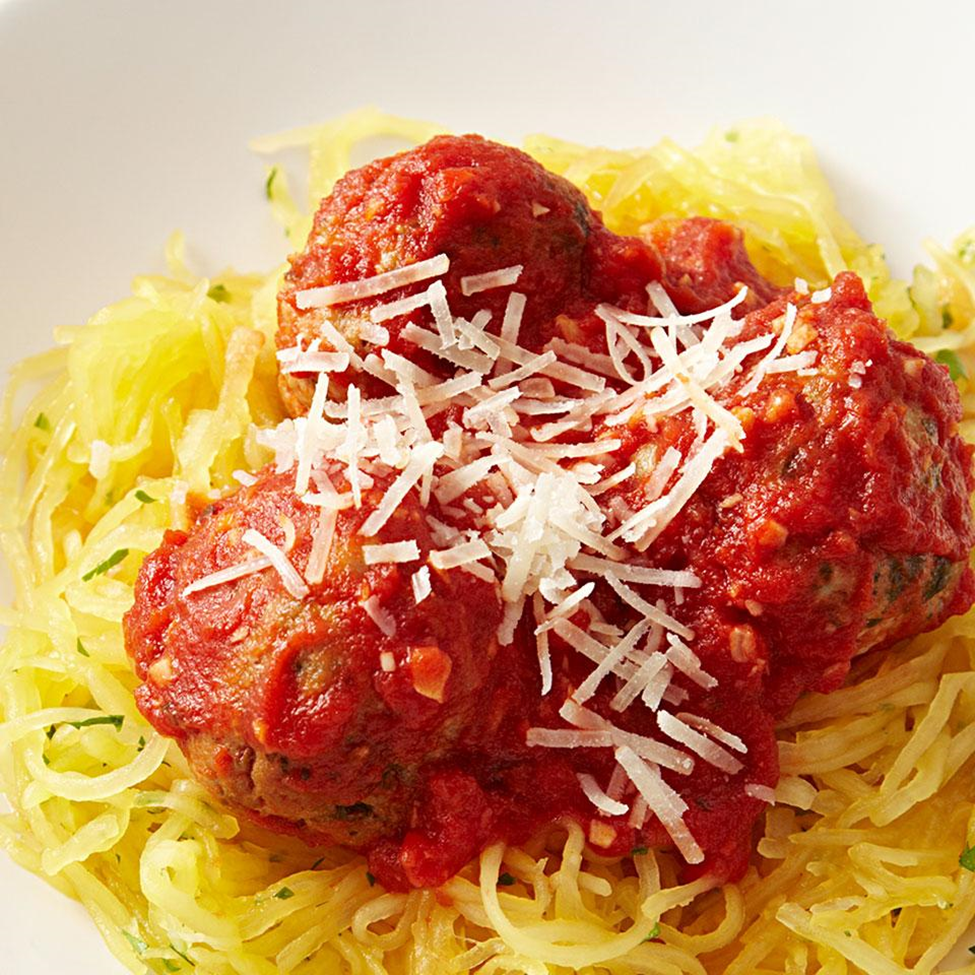 SPAGHETTI SQUASH & MEATBALLS
With this spaghetti squash and meatballs recipe, you can reduce the carbohydrates and increase the vegetable servings by skipping pasta and serving the Italian-seasoned turkey meatballs and quick, homemade marinara sauce over thin strands of cooked spaghetti squash instead. 
MAKES 4 SERVING/ TOTAL TIME 45 MINUTES
INGREDIENTS
1 3-pound spaghetti squash
2 tablespoons water
2 tablespoons extra-virgin olive oil, divided
½ cup chopped fresh parsley, divided
½ cup finely shredded Parmesan cheese, divided
1 ¼ teaspoons Italian seasoning, divided
½ teaspoon onion powder
½ teaspoon salt, divided
½ teaspoon freshly ground pepper
1 pound 93%-lean ground turkey
4 large cloves garlic, minced
1 28-ounce can no-salt-added crushed tomatoes
1/4-1/2 teaspoon crushed red pepper
METHOD
Halve squash lengthwise and scoop out the seeds. Place facedown in a microwave-safe dish; add water. Microwave, uncovered, on High until the flesh can be easily scraped with a fork, 10 to 15 minutes. Heat 1 tablespoon oil in a large skillet over medium-high heat. Scrape the squash flesh into the skillet and cook, stirring occasionally, Stir in 1/4 cup parsley. Remove from heat, cover and let stand. Meanwhile, combine the remaining 1/4 cup parsley, 1/4 cup Parmesan, 1/2 teaspoon Italian seasoning, onion powder, 1/4 teaspoon salt and pepper in a medium bowl. Add turkey; gently mix to combine (do not overmix). Add the meatballs, reduce heat to medium and cook, turning occasionally, until browned all over, 4 to 6 minutes. Push the meatballs to the side of the pan, add garlic and cook, stirring, for 1 minute. Add tomatoes, crushed red pepper to taste, the remaining 3/4 teaspoon Italian seasoning and 1/4 teaspoon salt; stir to coat the meatballs.
Nutrition Value
408 Kcal,
17.7g fat,
4.7g saturated fat,
7.9g fiber,
30.5g protein,
32g carbs