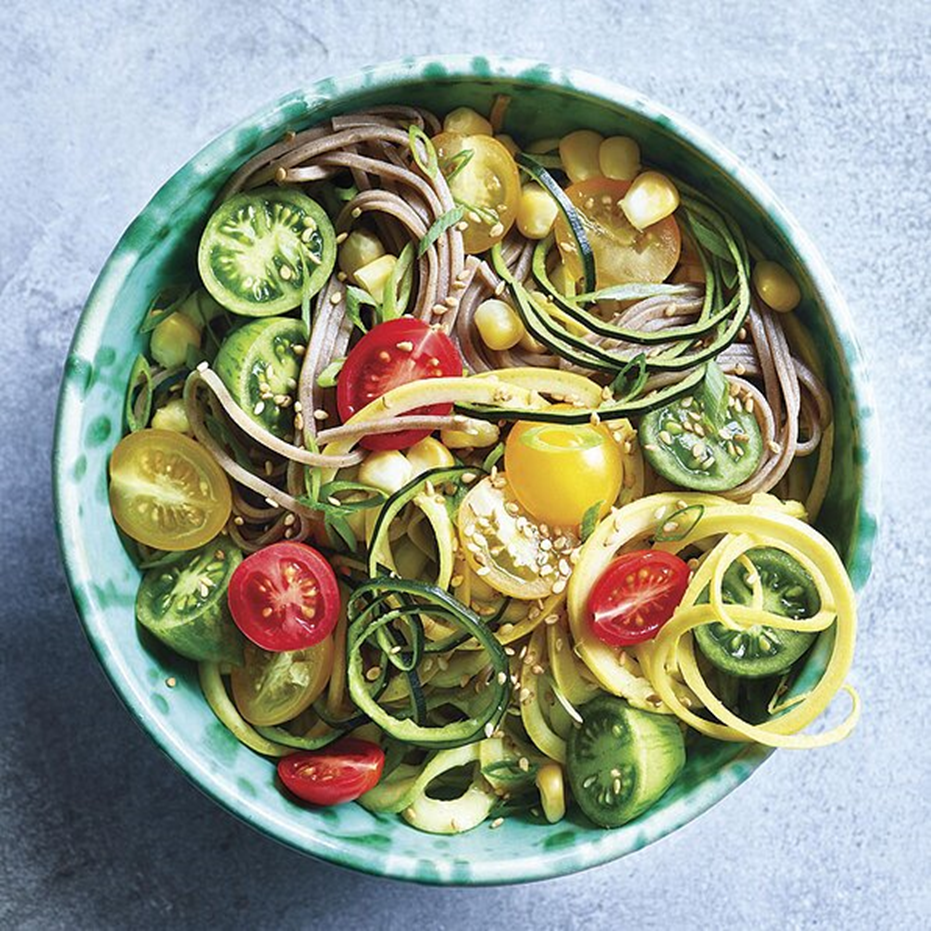 SUMMER VEGETABLE SESAME NOODLES
Squash noodles elbow out some of the starchy ones to give this cool sesame noodle salad a veggie boost. 
MAKES 4 SERVING/ TOTAL TIME 20 MINUTES
INGREDIENTS
1 medium yellow squash
1 medium zucchini
1 cup corn kernels, fresh or frozen
8 ounces soba noodles
¼ cup ponzu sauce (see Tip)
2 tablespoons tahini
2 tablespoons toasted sesame oil
1 tablespoon rice vinegar
¼ teaspoon salt
1 pint cherry tomatoes, halved
3 scallions, sliced
2 teaspoons sesame seeds
METHOD

STEP 1

Put a large saucepan of water on to boil.
STEP 2
Spiralize squash and zucchini into medium-thick "noodles. Place the vegetable noodles and corn in a large colander.
STEP 3
Cook soba noodles in the boiling water according to package directions. Pour over the vegetables in the colander to drain.
STEP 4
Meanwhile, combine ponzu, tahini, oil, vinegar and salt in a large bowl. Add the soba and vegetable noodles to the bowl along with tomatoes and scallions. Toss to combine. Serve topped with sesame seeds.
Nutrition Value
387 Kcal,
12.6g fat,
1.9g saturated fat,
5.5g fiber,
15.1g protein,
61g carbs