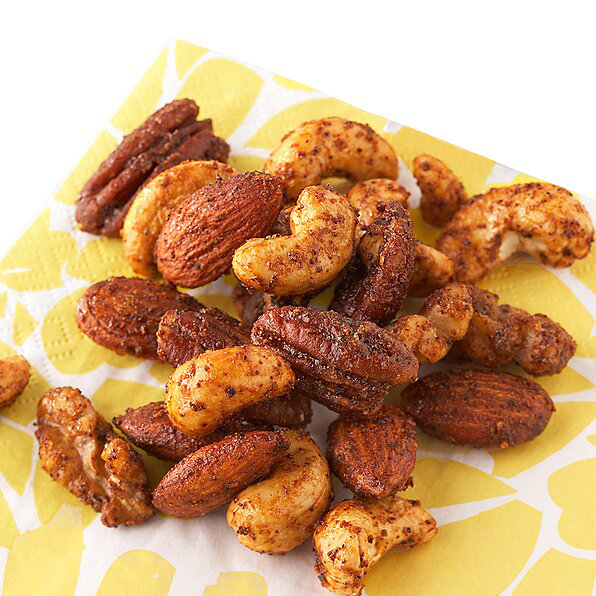 SWEET AND SALTY ROASTED NUTS
Spicy seasonings add a bit of zing to roasted nuts for an appetizer that's perfect for any occasion.
MAKES 1 SERVING/ TOTAL TIME 10 MINUTES
INGREDIENTS
1 egg white
1 tablespoon water
4 cups raw whole cashews, whole almonds, walnut halves, and/or pecan halves
3 tablespoons packed brown sugar
1 tablespoon ground cumin
2 teaspoons chili powder
1 teaspoon garlic salt
⅛ teaspoon cayenne pepper
METHOD

STEP 1

Preheat oven to 300 degrees F. In a medium bowl, combine egg white and water; beat with a fork until frothy. Add nuts; toss to coat. Let stand for 5 minutes.
STEP 2
Meanwhile, in a large plastic bag, combine brown sugar, cumin, chili powder, garlic salt, and cayenne pepper. Add nuts; shake well to coat. Spread nuts evenly in a 15x10x1-inch baking pan.
STEP 3
Bake for 35 to 40 minutes or until nuts are toasted and coating is dry, stirring twice. Transfer to a large sheet of foil. Cool completely. Store in an airtight container at room temperature for up to 5 days, or freeze for up to 3 months.
Nutrition Value

 206 Kcal,
16g fat,
3g saturated fat,
2g fiber,
7g protein,
13g carbs