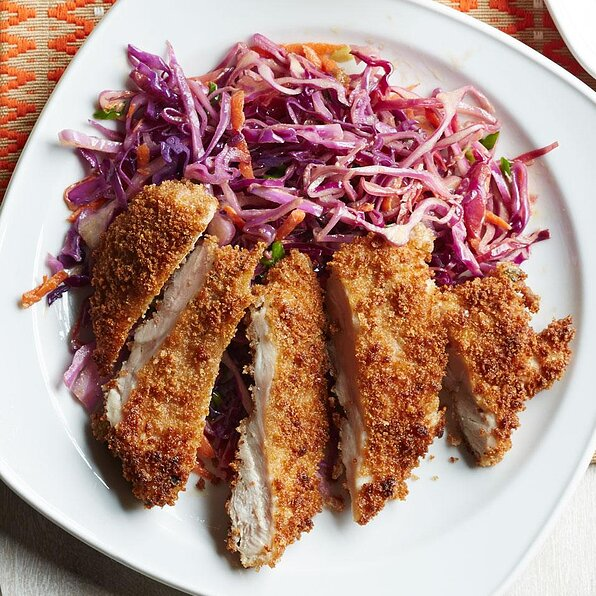 CHICKEN KATSU WITH CREAMY SLAW
This crispy Japanese chicken recipe comes complete with a creamy warm slaw on the side.
MAKES 4 SERVING/ TOTAL TIME 40 MINUTES
INGREDIENTS
4 boneless, skinless chicken thighs (about 1 1/4 pounds), trimmed
¼ teaspoon salt
¼ teaspoon ground pepper
3 tablespoons all-purpose flour
1 large egg, beaten
1 cup panko breadcrumbs, preferably whole-wheat
5 tablespoons peanut or grapeseed oil
4 scallions, sliced
1 tablespoon minced fresh ginger
6 cups thinly sliced red cabbage
½ cup grated carrot
2 tablespoons mayonnaise
2 tablespoons reduced-sodium soy sauce
2 tablespoons rice vinegar
1 teaspoon white sugar
METHOD
Place chicken between 2 pieces of plastic wrap. Pound with the smooth side of a meat mallet or heavy skillet to about 1/4-inch thickness. Sprinkle with salt and pepper. Place flour, egg and panko in three separate shallow dishes. Dredge the chicken in flour, shaking off excess, then dip in egg, letting excess drip off, then coat both sides with panko. Heat 1 tablespoon oil in a large skillet over medium-high heat. Add half the chicken, reduce heat to medium and cook until golden, 3 to 4 minutes. Turn the chicken over and swirl in 1 tablespoon oil. Continue cooking until golden brown on the second side and cooked through, 3 to 4 minutes more. Transfer the chicken to a plate and tent with foil. Repeat with the remaining chicken and 2 tablespoons oil. Wipe out the pan.Heat the remaining 1 tablespoon oil in the pan over medium heat. Add scallions and ginger and cook, stirring, for 30 seconds. Add cabbage and carrot; cook, stirring often, until the cabbage just starts to wilt, 1 to 2 minutes. Remove from heat.
Combine mayonnaise, soy sauce, vinegar and sugar in a medium bowl. Add the cabbage mixture and toss until well combined.
Nutrition Value
539 Kcal,
34.2g fat,
6.9g saturated fat,
4.2g fiber,
33g protein,
26g carbs