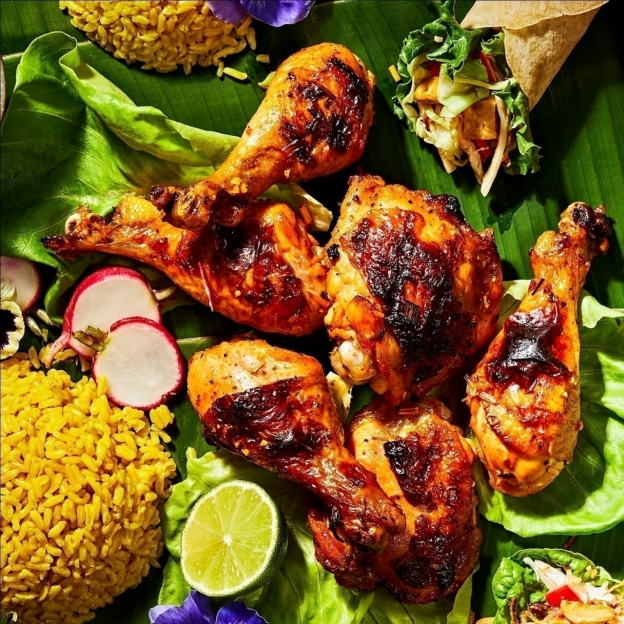 CHICKEN INASAL (GRILLED CHICKEN)
Yana Gilbuena has traveled the world, celebrating the cuisine of her Filipino heritage with pop-up kamayan dinners.
MAKES 4 SERVING/ TOTAL TIME 45 MINUTES
INGREDIENTS
Chicken
1 cup coconut vinegar
½ cup calamansi juice
½ cup lemon-lime-flavored seltzer water
¾ cup chopped fresh lemongrass
¼ cup light brown sugar
2 tablespoons minced garlic
2 tablespoons minced fresh ginger
1 ½ teaspoons ground pepper
1 teaspoon salt
3 pounds bone-in chicken pieces
¼ cup atsuete oil
Sauce
6 tablespoons coconut vinegar
2 teaspoons minced Thai chile
2 teaspoons minced garlic
2 teaspoons minced shallot
½ teaspoon salt
½ teaspoon ground pepper
METHOD

STEP 1

To prepare chicken: Whisk 1 cup vinegar, calamansi (or lemon) juice, seltzer, lemongrass, brown sugar, 2 tablespoons garlic, ginger, 1 1/2 teaspoons pepper and 1 teaspoon salt in a large bowl. Reserve 1/2 cup of the marinade for basting. Add chicken to the bowl and massage the marinade into it. Cover the chicken and the reserved marinade and refrigerate separately for 8 hours. When ready to cook, preheat half the grill to medium-high; leave the other half unheated. Whisk atsuete oil into the reserved basting marinade.
STEP 2
Remove the chicken from its marinade (discard that marinade). Cook the chicken on the unheated part of the grill for 20 minutes. Flip and cook, basting often with the reserved marinade, until an instant-read thermometer inserted in the thickest part without touching bone registers 165°F, 10 to 15 minutes more. Meanwhile, prepare sauce: Whisk vinegar, chile, garlic, shallot, salt and pepper in a small bowl. Serve the chicken with the sauce.
Nutrition Value
213 Kcal,
12g fat,
2g saturated fat,
18g fiber,
20g protein,
5g carbs