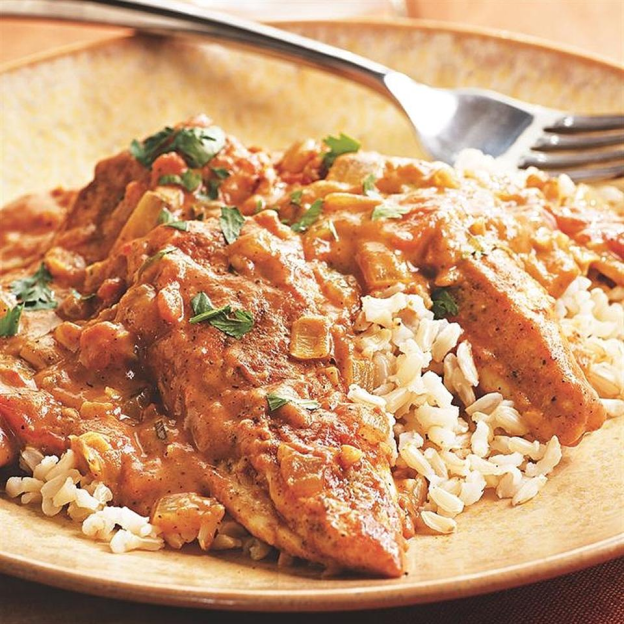 QUICK CHICKEN TIKKA MASALA
We've simplified it to a one-skillet dish and lightened it by increasing the vegetables, omitting the butter and using less cream. Serve with brown basmati rice and, for dessert, dates.
MAKES 4 SERVING/ TOTAL TIME 40 MINUTES
INGREDIENTS
4 teaspoons garam masala
½ teaspoon salt
¼ teaspoon turmeric
½ cup all-purpose flour
1 pound chicken tenders
4 teaspoons canola oil, divided
6 cloves garlic, minced
1 large sweet onion, diced
4 teaspoons minced fresh ginger
1 28-ounce can plum tomatoes, undrained
⅓ cup whipping cream
1/2 cup chopped fresh cilantro for garnish
METHOD

STEP 1

Stir together garam masala, salt and turmeric in a small dish. Place flour in a shallow dish. Sprinkle chicken with 1/2 teaspoon of the spice mixture and dredge in the flour.  Heat 2 teaspoons oil in a large skillet over medium-high heat. Cook the chicken until browned, 1 to 2 minutes per side. Transfer to a plate.
STEP 2
Heat the remaining 2 teaspoons oil in the pan over medium-low heat. Add garlic, onion and ginger and cook, stirring often, until starting to brown, 5 to 7 minutes. Add the reserved spice mix and cook, stirring, until fragrant, 30 seconds to 1 minute. Sprinkle with the reserved 1 tablespoon flour and stir until coated. Add tomatoes and their juice. Bring to a simmer, stirring and breaking up the tomatoes with a wooden spoon. Cook, stirring often, until thickened and the onion is tender, 3 to 5 minutes. Stir in cream. Add the chicken and any accumulated juices to the pan. Bring to a simmer and cook over medium-low heat until the chicken is cooked through, 3 to 4 minutes. Garnish with cilantro.
Nutrition Value
318 Kcal,
14.1g fat,
5.1g saturated fat,
4g fiber,
27g protein,
21.4g carbs