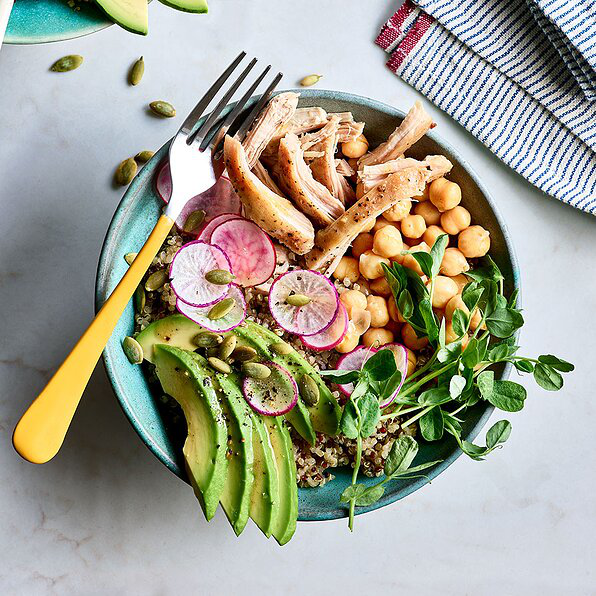 CHICKEN & QUINOA BUDDHA BOWLS
Arrange the toppings individually on these protein-packed Buddha bowls so each bite has a contrasting taste and texture. 
MAKES 4 SERVING/ TOTAL TIME 30 MINUTES
INGREDIENTS
Roasted Chicken Thighs
5 boneless, skinless chicken thighs (about 1 1/4 pounds), trimmed
½ teaspoon ground pepper
¼ teaspoon salt
Quinoa
3 cups low-sodium chicken broth
1 tablespoon extra-virgin olive oil
¼ teaspoon salt
1 ½ cups quinoa
Italian Dressing
¾ cup red-wine vinegar
5 tablespoons water
1 ½ tablespoons sugar
1 tablespoon Dijon mustard
1 large clove garlic
2 teaspoons dried basil
2 teaspoons dried oregano
½ teaspoon salt
½ teaspoon ground pepper
1 ¾ cups extra-virgin olive oil
Toppings
1 (15 ounce) can chickpeas, rinsed
1 avocado, sliced
6 radishes, thinly sliced
1 cup sprouts or shoots
¼ cup toasted seeds or chopped nuts
METHOD

STEP 1

To prepare chicken: Preheat oven to 425 degrees F. Place chicken on a baking sheet. Sprinkle with 1/2 teaspoon ground pepper and 1/4 teaspoon salt. Roast the chicken until an instant-read thermometer inserted in the thickest part registers 165 degrees F, 14 to 16 minutes. Slice 4 thighs. Meanwhile, prepare quinoa: Combine broth, 1 tablespoon oil and 1/4 teaspoon salt in a large saucepan. Bring to a simmer over high heat. Stir in quinoa and return to a simmer. Reduce heat and simmer until the quinoa has absorbed all the liquid and the grains have burst, 15 to 20 minutes. Remove from heat, cover and let stand for 5 minutes. To prepare dressing: Combine vinegar, water, sugar, mustard, garlic, basil, oregano, salt and pepper in a blender. Puree until smooth. With the motor running, slowly add oil and puree until creamy. (Transfer 1 3/4 cups to a large mason jar and refrigerate for up to 1 week.)
To assemble bowls: Divide 3 cups quinoa among 4 large shallow bowls. Top with the chicken, chickpeas, avocado, radishes and sprouts (or shoots); sprinkle with seeds (or nuts). Drizzle with 3/4 cup dressing.
Nutrition Value

753 Kcal,
50g fat,
8g saturated fat,
10.3g fiber,
34.4g protein,
43.3g carbs