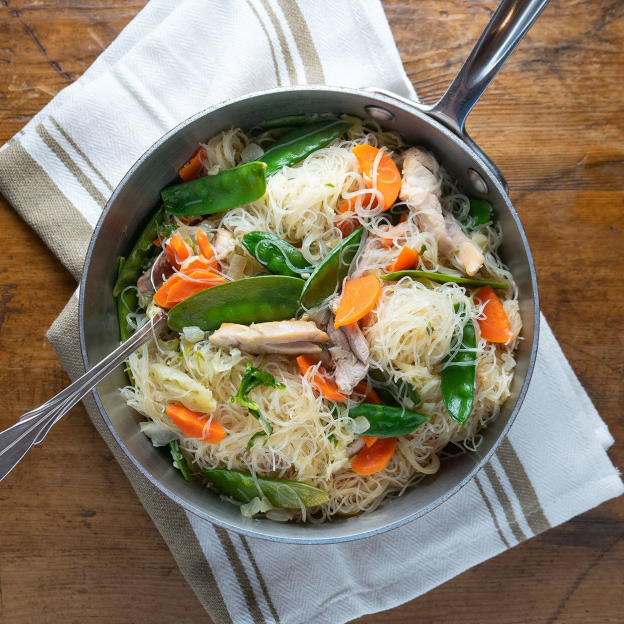 This healthy version of the classic Filipino noodle dish pancit bihon has plenty of vegetables, along with chicken and pork.
MAKES 6 SERVING/ TOTAL TIME 35 MINUTES
INGREDIENTS
2 tablespoons canola oil
1 cup chopped onion
2 tablespoons minced garlic
8 ounces pork tenderloin, halved lengthwise and thinly sliced
8 ounces boneless, skinless chicken thighs, thinly sliced
4 cups reduced-sodium chicken broth
3 cups shredded cabbage
2 cups snow peas, halved
1 ½ cups halved and sliced carrots
1 cup chopped celery leaves
1 (8 ounce) package pancit bihon rice noodles
2 ½ tablespoons reduced-sodium soy sauce
METHOD

STEP 1

Heat oil in a large pot over medium heat. Add onion and garlic; cook, stirring, until starting to soften, 2 to 3 minutes. Add pork and chicken; cook, stirring, until just cooked through, 3 to 5 minutes more. Transfer to a plate.
STEP 2
Add broth, cabbage, snow peas, carrots and celery leaves to the pot. Bring to a simmer; cook until the vegetables are mostly tender, about 5 minutes. Add pancit bihon and cook, stirring, until the liquid is absorbed, 3 to 5 minutes. Stir in the pork and chicken; cook, stirring, until heated through, 2 minutes more. Stir in soy sauce and serve.
Nutrition Value
341 Kcal,
8.2g fat,
1.3g saturated fat,
3.4g fiber,
21.2g protein,
45.7g carbs