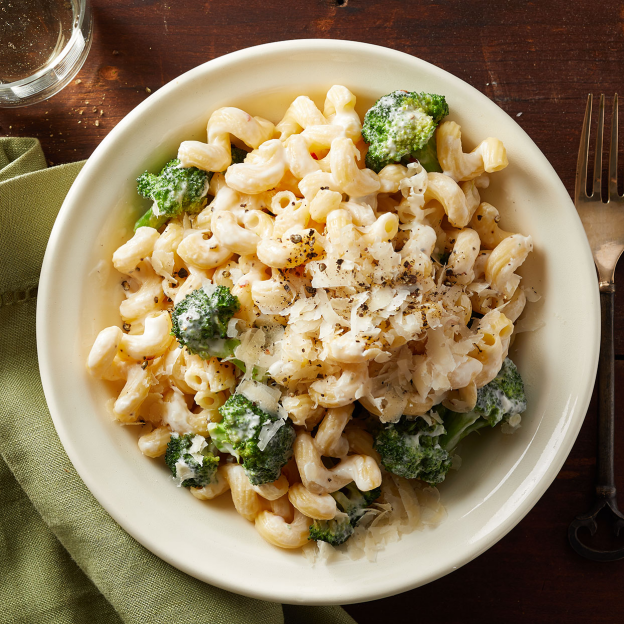 If you're looking for a simple weeknight pasta dish, look no further.
MAKES 4 SERVING/ TOTAL TIME 20 MINUTES
INGREDIENTS
8 ounces cavatappi or rotini, preferably whole wheat
2 tablespoons extra-virgin olive oil
½ cup halved and sliced onion
2 cups chopped broccoli
½ teaspoon salt
¼ teaspoon crushed red pepper
½ cup mascarpone cheese (3 ounces)
¼ cup low-fat plain Greek yogurt
1 teaspoon garlic powder
Grated Parmesan cheese (Optional)
METHOD

STEP 1

Bring a large saucepan of water to a boil. Add pasta and cook according to package directions. Reserve 1/2 cup of the cooking water. Drain the pasta and return to the pot.
STEP 2
Meanwhile, heat oil in a large skillet over medium-high heat. Add onion and cook, stirring, for 1 minute. Add broccoli, salt and crushed red pepper; cook, stirring, until the vegetables are soft, about 3 more minutes. Remove from heat.
STEP 3
Whisk mascarpone, yogurt, garlic powder and the reserved pasta water together in a small bowl. Add to the pasta along with the broccoli mixture. Stir well to coat. Cover and let stand for 5 minutes before serving. Sprinkle with Parmesan cheese, if desired.
Nutrition Value
562 Kcal,
36g fat,
16g saturated fat,
7g fiber,
16g protein,
51g carbs