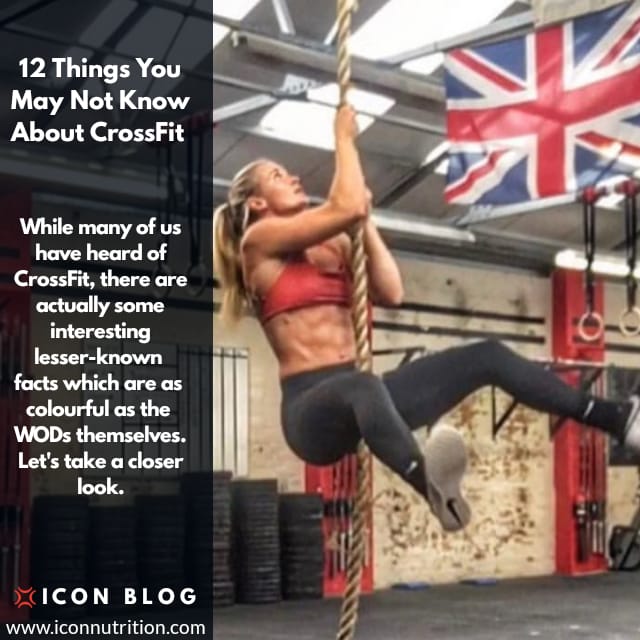 12 Things You May Not Know About CrossFit
CrossFit is seen by many to be one of the most revolutionary forms of aerobic and strength training routines in these modern times. Consisting of a mix of plyometrics, gymnastics, powerlifting and high-intensity cardiovascular activities, it is one of the few whole-body programmes which can quickly tone, add strength and burn calories. While many of us have heard of CrossFit, there are actually some interesting lesser-known facts which are as colourful as the WODs themselves. Let's take a closer look.
1. THE MAN WHO FOUNDED CROSSFIT
CrossFit was founded by a man called Greg Glassman, a former gymnast and personal trainer. Whilst Glassman doesn't partake in the sport of CrossFit any longer, he is deeply devoted to spreading the message of CrossFit and its many benefits all over the globe.
2. EMBRACED BY THE FORCES
CrossFit has been adopted by numerous police forces, military special ops teams and martial artists around the World. Amongst organisations that are known to utilise the regime are the Canadian Forces, and the Royal Danish Life Guards. The fact that the training encourages speed, strength and agility prepares people for a wide range of challenges which might be experienced in a hostile environment.
3. SCALABLE AND ADAPTABLE
The training is based around Workouts of the Day (WOD's) that are the same for everyone, old and young, male and female, but each are scalable to adapt to the individuals abilities. The WODs focus on specific parts of the participant's strength or conditioning and build up over time to cover all aspects of physical fitness.
4. EXPONENTIAL GROWTH
While CrossFit has become a household name in recent times, many practitioners are actually surprised to learn that the initial concept was created as far back as 1996. Still, it took another nine years before the first thirteen gyms sprang up in the United States. Since 2005, the sheer number has grown to include more than ten thousand affiliates throughout America and indeed many other countries around the world.
5. WHY SOME WODS ARE NAMED AFTER WOMEN
The WODs are generally given female names thanks to the programme's originator Greg Glassman. His philosophy was that each WOD should leave you flat on your back, looking up at the sky, wondering what on earth just happened to you, a bit like being hit by a storm, which are also given women's names. That said, regular CrossFit devotees are predominantly women, about sixty per cent.

6. CROSSFIT REMEMBERS THE FALLEN
There are also a number of WODs that are named after fallen service personnel. One of the best known is the 'Murphy,' named after a 29 year old U.S. Navy Lieutenant called Michael Murphy who died in Afghanistan in 2005. His favorite workout consisted of a one mile run sandwich, with one hundred pull-ups, two hundred pushups and three hundred squat thrusts as the filling, and this has now been re-named in his honour.


7. TO START YOUR OWN BOX YOU HAVE TO PASS A TEST
Setting up a CrossFit box or gym is carefully regulated by the organisation itself. Would be trainers have to pass a series of exams after which they can apply to become affiliates, which requires a written application in the form of an exam and then yearly subscriptions. The quality of instructors can vary considerably but each one will have to meet the minimum standards that have been set.
8. CROSSFIT GIVES BACK
CrossFit has a consistent history for fundraising which it goes about in a number of ways. Two well known events are the Memorial Day Murph, where sponsorship money goes to the Murphy Memorial Scholarship Foundation and the Barbells for Boobs, which raises funds for breast cancer detection and treatment in men and women under the age of forty. Other charity events come under the umbrella of CrossFit for Hope, which raises money to fight childhood cancer and provide education facilities in Kenya.

Another great event from recent times is Battle Cancer with 3 events being hosted in 2020 at Dublin, Reykjavik and San Diego => https://www.battlecancer.com/
9. CROSSFIT CAN KILL
Actually, it can't. But rhabdomyolysis can. Due to the ethos of pushing participants to their absolute limits there have been rare cases amongst Crossfitters of rhabdomyolysis, which can become a very serious medical condition. When at the absolute limit of endurance the body's muscle fibers can actually breakdown and enter the bloodstream, where there is a strong possibility of poisoning the kidneys. These cases were immediately seized upon and circulated to give CrossFit a notoriety as a killer, but they remain very rare and any CrossFit Coach who knows what they are doing will prevent their trainees from putting themselves at risk. This most notably occurs in former athletes who are out of condition and try to return to form too quickly.
10. 'KALSU': THE MOST DIFFICULT WOD EVER
The WOD that is generally held to be one of the toughest is the 'Kalsu,' which consists of five burpees on the minute with the remaining time filled with 135lb thrusters, aiming to complete 100 thrusters in total. The recommendation comes to complete this towards the end of your session, as most people are unable to manage anything else afterwards.
11. NOT JUST ABOUT AEROBICS
Many associate the CrossFit system with an ability to increase cardiovascular and aerobic activity. While this is the case, it is also important to remember that so-called "strongman" exercises play an important role. These can include such torturous routines as the yoke lift and the farmer's carry (heavy weights are gripped in each hand and walked for a certain distance; frequently until the practitioner literally must drop them from sheer exhaustion).
12. MELTING THE CALORIES AWAY
Many will use CrossFit as an excellent way to burn off excess calories. Still, how many can be ablated through a high-intensity training session? According to some, a twenty-minute WOD can burn as many as two hundred and sixty calories. This is the equivalent of running 2.6 miles during the same period of time. As many may simply be bored with normal running, CrossFit is seen as an interesting alternative. Also, experienced practitioners may indeed be able to burn well over three hundred calories.
These are some of the lesser-known facts surrounding this novel training system. As a greater number of people get hooked doing CrossFit each and every year, we can only expect the popularity of the sport to continue to increase.
 OTHER GOOD READS:
14 CrossFit Workouts That You Have To Try At Least Once
Sleep and the importance to help improve Athletic Performance
What's your thoughts about CrossFit? We'd love to hear from you.on social or email.

If you think your friends would like this post, why not share it using the share buttons below.