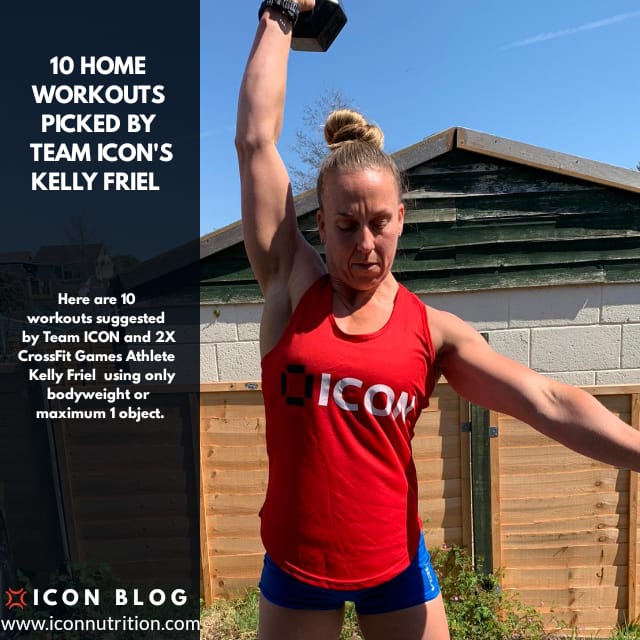 10 Home Workout Ideas by CrossFit Games Athlete Kelly Friel
Today we have 10 new workouts for you using little or no equipment come from Team ICON and CrossFit Games Athlete Kelly Friel
WOD 1
FOR TIME:
500 Air Squats- every minute 5 down ups.
WOD 2
21-15-9-6-9-15-21
Alternating dumbbell snatch (or odd object)
Alternating Lunge with Odd Object
WOD 3
Fight Gone Bad Style
10 Rounds
Working for = 30 seconds per station/30 seconds Rest
Double Unders/Single Unders
REST
Air squats
REST
Hand release Push ups
REST
WOD 4
40-30-20-10
Goblet Squats (using odd object- KB/Dumbbell/Ball/Sandbag etc)
Lateral Burpees over odd object
WOD 5
5 Rounds for Time
10- Dumbbell Snatches (each arm - All on Left then all on the Right)
20- Sit ups
30- Mountain Climbers
WOD 6
AB BLAST
4 Rounds for - FOR QUALITY
30 secs- Hollow Hold
20 - Alternating V- ups
20- Hollow rocks
15 Secs- Side Plank on Right
15 Secs- Side Plank on Left
30 Secs- Arch Hold
1 Minute Rest in between each round
WOD 7
FOR TIME
1km- Run
INTO
50 - HSPU (pike HSPU from the floor if you have no wall)
40 Air squats
30- Tricep Dips ( off a box/bench/wall etc)
20 Sit ups
FINISH
1km Run
WOD 8
Tabata Style
30 secs Work- 30 secs Rest x 8 rounds
Thruster
Double Unders or Single Unders
Mountain Climbers
Complete 8 rounds of 30 secs on 30 secs off- All on thrusters first, then 8 rounds of DUBS etc.
WOD 9
FOR TIME
400m Run
20 - OHS
20 - Back squats
20 - Front squats
400m Run
20 - Shoulder Press
20 - Push press
20 - push Jerk
400m Run
WOD 10
AMRAP- 18 mins
40 Double Unders/Single Unders
20- Box Jumps or Step ups (use a box or something stable like a Bench/wall etc)
10m x 10 - Shuttle sprints ( so you will complete 100m each time)
5- Wall walks
---
I Co- own & train at Crossfit Southampton. I started Crossfit in October 2012 (a bit late starting for my age) but have never looked back since, the thing I enjoy is that you never stop learning.
I am married, we have 2 girls and I love the fact that we can all do Crossfit together as a family.
I have been to regionals 3 times- 2013/2014 and the final year of Regionals in 2018 (at the grand age of 40- ha ha) where I finished 18th overall. My biggest achievement of all times was making it to the Crossfit Games in 2019, qualifying in the top 20 in the world out of 17,000+ female athletes (age 40-44 category).
That year I actually made the podium and took home a silver medal - i still can't quite believe it!!!! Last year I made it back to the Crossfit Games again and earned myself a spot on the podium bringing home another silver medal ……….. the 2nd Fittest female in world for the 2nd year running!!!!