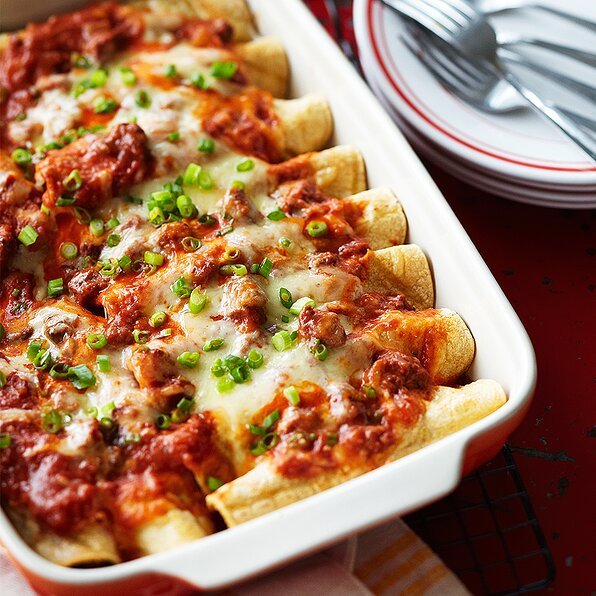 Our take on this popular Mexican dish certainly does not disappoint. 
MAKES 6 SERVING/ TOTAL TIME 45 MINUTES
INGREDIENTS
½ cup chopped onion (1 medium)
1 tablespoon olive oil
1 tablespoon all-purpose flour
2 teaspoons chili powder
1 teaspoon ground cumin
½ teaspoon salt
2 (8 ounce) cans no-salt-added tomato sauce
¾ cup water
1 ½ pounds 95% lean ground beef
3 ounces reduced-fat Monterey Jack cheese, shredded (3/4 cup)
1 4-ounce can diced, green chile peppers, undrained
12 6-inch corn tortillas
Bottled hot pepper sauce
¼ cup thinly sliced green onions (2)
METHOD

STEP 1

Preheat oven to 375 degrees F. For sauce, in a medium saucepan cook onion in hot oil over medium heat about 3 minutes or until tender. Stir in flour, chili powder, cumin and salt. Cook and stir 1 minute. Stir in tomato sauce and the water. Cook and stir until thickened and bubbly; reduce heat. Simmer, uncovered, 5 minutes, stirring occasionally. Remove from heat. Meanwhile, in a large skillet cook ground beef until meat is brown, using a wooden spoon to break up meat as it cooks. Drain well; return meat to skillet. Stir in 1/2 cup of the sauce, 1/4 cup of the shredded cheese, and the chile peppers.
STEP 2
Spoon 1/2 cup of the sauce into the bottom of a 3-quart rectangular baking dish; set aside. Wrap tortillas in microwave-safe paper towels. Place filled tortillas, seam sides down, in the prepared baking dish. Stir any remaining meat mixture into the remaining sauce. Spoon sauce evenly over tortilla rolls in baking dish. Sprinkle with the remaining 1/2 cup cheese. Bake, uncovered, about 20 minutes or until bubbly.
Nutrition Value
363 Kcal,
11.7g fat,
4.6g saturated fat,
6.3g fiber,
32.3g protein,
32g carbs