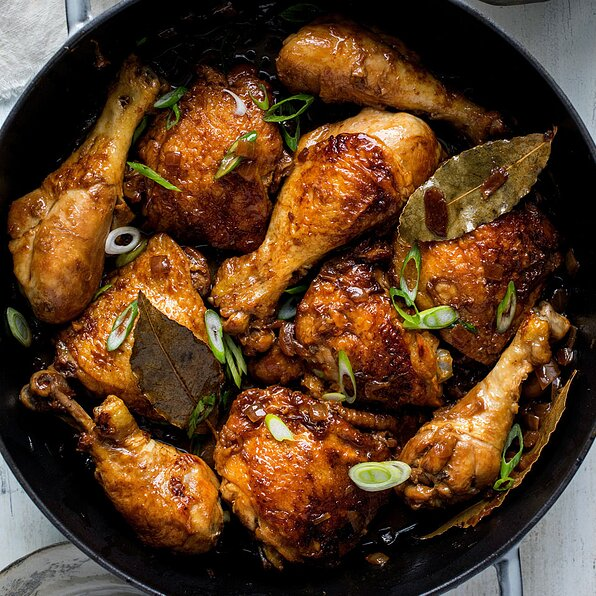 Perhaps the most famous dish in the Filipino repertoire, chicken adobo has as many versions as there are cooks in the Philippines.
MAKES 4 SERVING/ TOTAL TIME 35 MINUTES
INGREDIENTS
2 tablespoons canola oil
5 chicken drumsticks (about 1 3/4 pounds)
5 bone-in chicken thighs (about 1 3/4 pounds)
1 large yellow onion, quartered and sliced 1/4 inch thick
8 cloves garlic, smashed
5 bay leaves
¼ teaspoon whole black peppercorns
1 cup cane vinegar  or unseasoned rice vinegar
⅓ cup reduced-sodium soy sauce
METHOD

STEP 1

Heat oil in a large pot over medium heat until it starts to shimmer. Add drumsticks and cook until brown on all sides, 4 to 6 minutes. Transfer to a plate. Add thighs to the pot and cook until browned, about 3 minutes per side. Transfer to the plate with the drumsticks.
STEP 2
Add onion, garlic, bay leaves and peppercorns to the pot; cook, stirring occasionally, until the garlic just begins to brown, about 3 minutes. Add vinegar and soy sauce and bring to a simmer, scraping up any browned bits. Return the chicken to the pot and turn to coat with the sauce. Reduce heat to maintain a gentle simmer, cover and cook, stirring occasionally, until the chicken is very tender, about 1 hour.
Nutrition Value
432 Kcal,
26.7g fat,
6.2g saturated fat,
0.8g fiber,
40.2g protein,
5.8g carbs