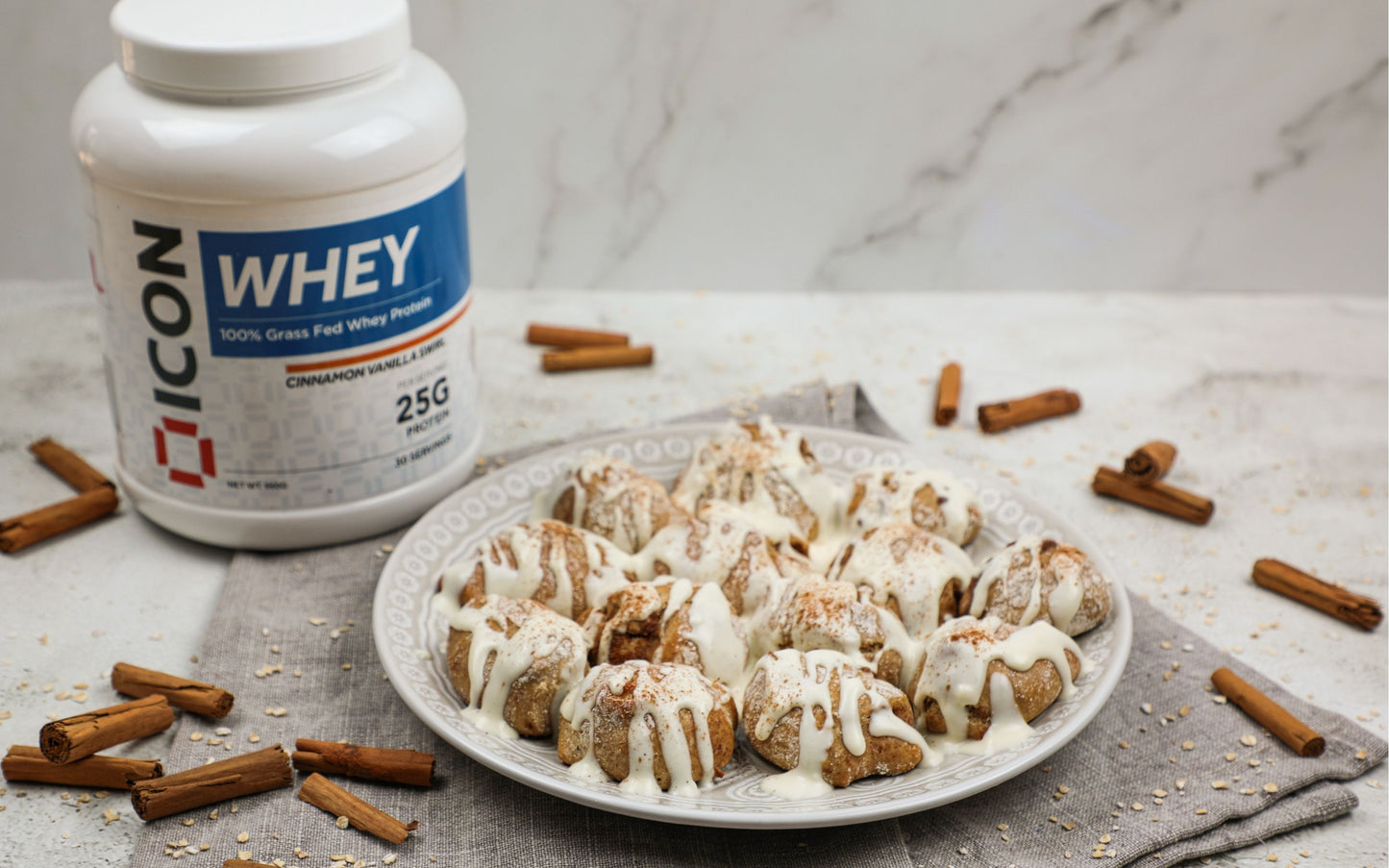 Cinnamon Whey Protein Rolls Recipe
Here we have a simple recipe using our CInnamon Whey Protein Powder
Ingredients:

Dough Ingredients:
2 cups of oat flour 
2 scoops cinnamon vanilla swirl protein powder
1 1/4 tsp baking powder 
1/4 tsp salt 
4 tsp honey 
2 tbs unsweetened applesauce 
8 tsp liquid egg whites 
1/2 tsp vanilla 
Filling Ingredients:
1/4 cup sugar free syrup
1/4 tsp cinnamon 
Icing Ingredients 
1 oz fat free cream cheese
1/2 scoop vanilla  swirl protein powder
Unsweetened milk 
Vanilla bean powder


Instructions:

1. Preheat oven to 350 F.
For the dough, mix dry ingredients together in a large bowl, then add in the wet ingredients.




3. Knead together until you get a stiff dough. Roll dough on floured surface into a long rectangle. 4. Spread filling mixture onto dough. Starting from the long end of the rectangle, roll dough into a long tube. Cut roll into 15 slices. Place rolls on greased baking dish, evenly spaced. Bake for 10-12 minutes. 

Meanwhile, using a mixer, mix together icing ingredients. Add enough milk to get the desired consistency you want. 

Remove cinnamon rolls from oven and drizzle with icing. Sprinkle with extra cinnamon if desired.




Prep time: 15 min
Cooking time: 10 min
Total time: 25 min
Nutrition Facts

Servings: 15

Amount per serving

Calories

87

% Daily Value*

Total Fat 1.5g

2 %

Saturated Fat 0.6g

3 %

Cholesterol 2mg

1 %

Sodium 66mg

3 %

Total Carbohydrate 11.1g

4 %

Dietary Fiber 1.4g

5 %

Total Sugars 1.8g

Protein 7.4g

Vitamin D 0mcg

0 %

Calcium 55mg

4 %

Iron 1mg

4 %

Potassium 122mg

3 %

*The % Daily Value (DV) tells you how much a nutrient in a food serving contributes to a daily diet. 2,000 calorie a day is used for general nutrition