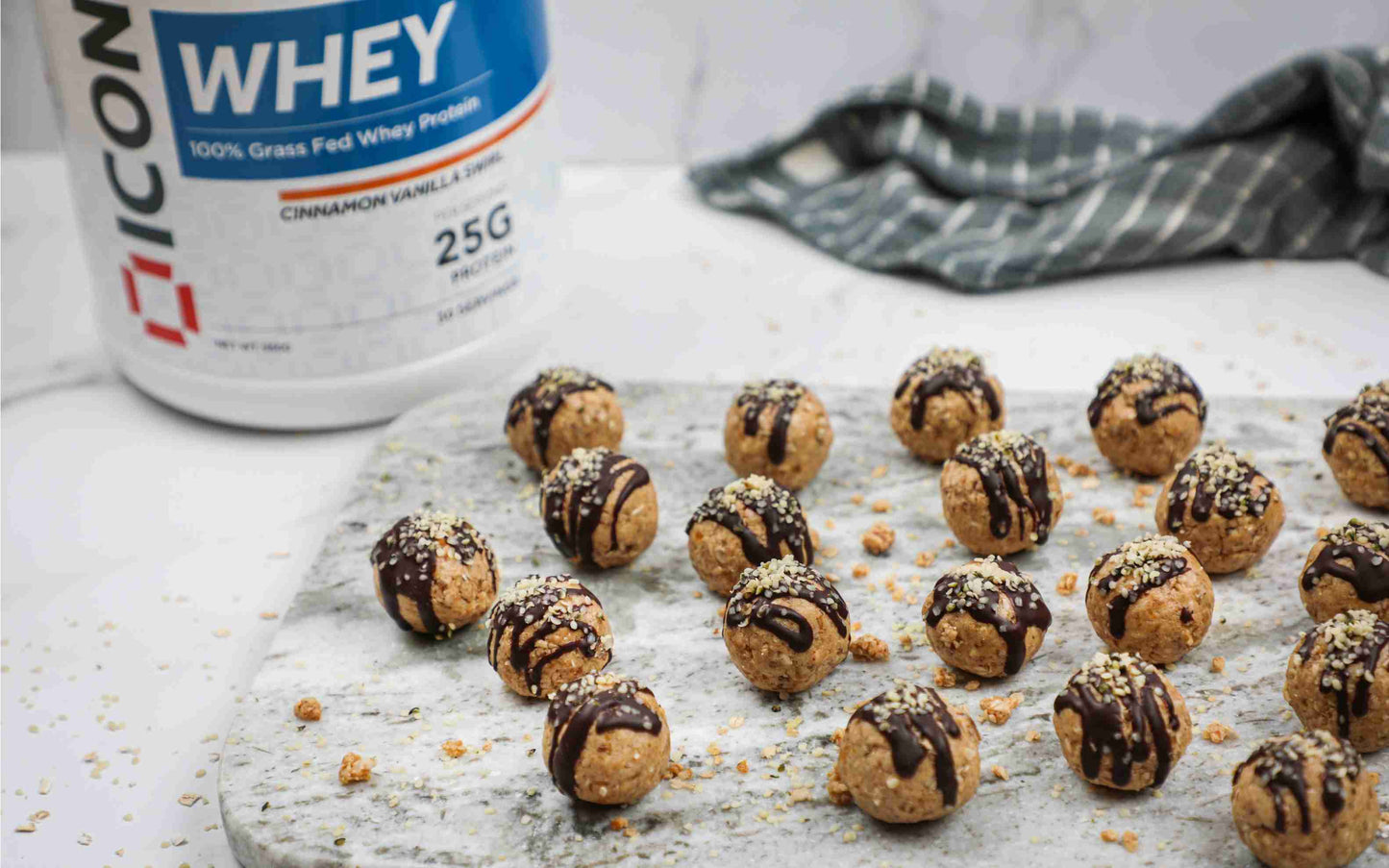 Simple Protein Recipes - Cinnamon Protein Energy Balls
We've put together a quick and easy protein snack recipe for you that is the perfect energy boost anytime of day. 

Be sure to tag us in your creations with @iconnutrition #iconnutrition.
Ingredients:

1 Cup oats
1 Scoop cinnamon vanilla swirl whey protein powder 
2/3 Cup raisins
1/2 Tsp vanilla powder
2/3 Cup sugar-free peanut butter
1/4 Cup cocoa paste, melted
1-2 Tbsp hemp seeds


Instructions:

1. In a food processor add oats, protein powder, raisins and vanilla.
2. Process until well blended.
3. Add the peanut butter and process again until a dough is formed.
4. Using your hands, form about 23 balls.
5. Drizzle with melted cocoa paste and sprinkle with hemp seeds.
6. Allow to cool in the fridge and enjoy!
Prep time: 10 min
Total time: 10 min
Enjoy ;-)
Nutrition Facts

Servings: 23

Amount per serving

Calories

65

% Daily Value*

Total Fat 3.9g

5 %

Saturated Fat 0.8g

4 %

Cholesterol 0mg

0 %

Sodium 37mg

2 %

Total Carbohydrate 5.2g

2 %

Dietary Fiber 0.8g

3 %

Total Sugars 2.6g

Protein 3.4g

Vitamin D 0mcg

0 %

Calcium 8mg

1 %

Iron 1mg

5 %

Potassium 85mg

2 %

*The % Daily Value (DV) tells you how much a nutrient in a food serving contributes to a daily diet. 2,000 calorie a day is used for general nutrition advice.