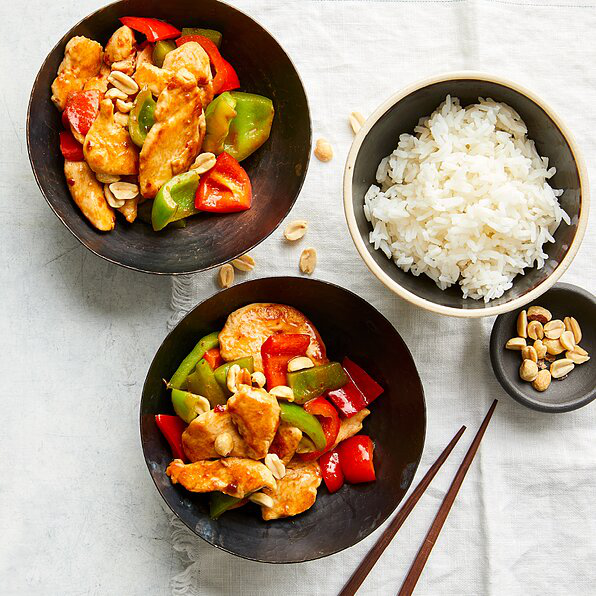 KUNG PAO CHICKEN WITH BELL PEPPERS
Here's an easy chicken recipe you'll definitely want to add to your dinner repertoire. 
MAKES 4 SERVING/ TOTAL TIME 30 MINUTES
INGREDIENTS
1 pound boneless, skinless chicken breast, cut into 1/4-inch-thick slices
2 teaspoons reduced-sodium soy sauce plus 1 Tbsp., divided
1 teaspoon dry sherry plus 1 Tbsp., divided
2 teaspoons cornstarch
2 teaspoons toasted sesame oil
2 tablespoons unsalted chicken broth
2 teaspoons balsamic vinegar
2 teaspoons chile-garlic sauce
2 tablespoons vegetable oil, divided
3 slices fresh ginger,
1 medium red bell pepper,
1 medium green bell pepper
¼ teaspoon salt
2 tablespoons dry-roasted peanuts
METHOD
Combine chicken, 2 tsp. soy sauce, 1 tsp. sherry, and cornstarch in a medium bowl. Stir until the cornstarch is no longer visible. Add sesame oil and stir until the chicken is lightly coated. Combine broth, vinegar, chile-garlic sauce, and the remaining 1 Tbsp. soy sauce and 1 Tbsp. sherry in a small bowl. Set aside. Heat a 14-inch flat-bottomed carbon-steel wok over high heat until a drop of water vaporizes within 1 to 2 seconds of contact. Swirl in 1 Tbsp. vegetable oil. Add ginger; stir-fry until fragrant, about 10 seconds. Push the ginger slices to the sides and add the chicken in an even layer. Cook, undisturbed, until it begins to brown, about 1 minute. Using a metal spatula, stir-fry the chicken until lightly browned but not cooked through, about 1 minute more. Transfer to a plate. Add bell peppers; stir-fry for 1 minute. Return the chicken to the pan along with the reserved sauce; season with salt and stir-fry until the chicken is cooked through, 1 to 3 minutes. Remove from heat and sprinkle with peanuts.
Nutrition Value

264 Kcal,
14.4g fat,
2.5g saturated fat,
1.6g fiber,
25.2g protein,
7.4g carbs