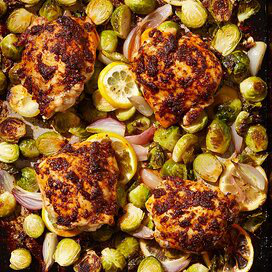 PAPRIKA CHICKEN THIGHS WITH BRUSSELS SPROUTS
Instead of opening a jar of sauce, try this easy spaghetti with meat sauce on a weeknight. 
MAKES 4 SERVING/ TOTAL TIME 40 MINUTES
INGREDIENTS
1 pound Brussels sprouts, trimmed and halved (or quartered if large)
4 small shallots, quartered
1 lemon, sliced
3 tablespoons extra-virgin olive oil, divided
¾ teaspoon salt, divided
½ teaspoon ground pepper, divided
2 cloves garlic, minced
1 tablespoon smoked paprika, sweet or hot
1 teaspoon dried thyme
4 large or 8 small bone-in chicken thighs (about 2 1/2 pounds), skin
METHOD

STEP 1

Position rack in lower third of oven; preheat to 450 degrees F. Combine Brussels sprouts, shallots and lemon with 2 tablespoons oil and 1/4 teaspoon each salt and pepper on a large rimmed baking sheet.
STEP 2
Mash garlic and the remaining 1/2 teaspoon salt with the side of a chef's knife to form a paste. Combine the garlic paste with paprika, thyme and the remaining 1 tablespoon oil and 1/4 teaspoon pepper in a small bowl. Rub the paste all over chicken. Nestle the chicken into the Brussels sprouts.
STEP 3
Roast on the lower rack until the Brussels sprouts are tender and an instant-read thermometer inserted into the thickest part of the chicken without touching bone registers 165 degrees F, 20 to 25 minutes.
Nutrition Value

453 Kcal,
24.6g fat,
5.4g saturated fat,
4.6g fiber,
44.1g protein,
14.3g carbs
53.8g carbs