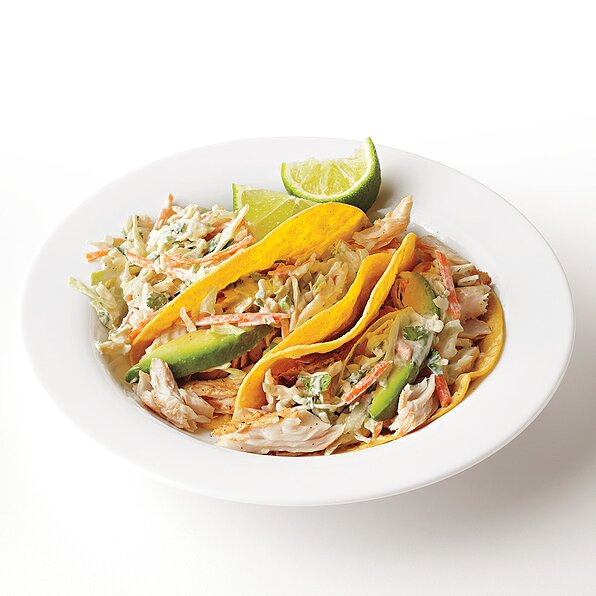 FISH TACOS WITH SPICY CABBAGE SLAW
These delicious fish tacos are paired with a spicy cabbage slaw. 
MAKES 4 SERVING/ TOTAL TIME 60 MINUTES
INGREDIENTS
1 ½ pounds fresh or frozen mahi mahi, cod, or tilapia
2 tablespoons fresh lime juice
2 tablespoons orange juice
1 tablespoon olive oil
2 cloves garlic, minced
½ teaspoon ground ancho chile pepper or chili powder
¼ teaspoon salt
⅛ teaspoon black pepper
1 (10 ounce) package 1 14-ounce package shredded cabbage with carrot (coleslaw mix)
1 small 1 to 2 fresh jalapeño chile peppers, finely chopped
2 tablespoons chopped fresh cilantro
1 (6 ounce) container plain fat-free Greek yogurt
⅓ cup fat-free mayonnaise dressing
1 tablespoon fresh lime juice
1 teaspoon ground cumin
¼ teaspoon salt
Nonstick cooking spray
8 (6 inch) corn tortillas, warmed
1 ripe avocado, halved, seeded, peeled and cut into 8 slices
1 wedge Lime wedges 
METHOD
Thaw fish, if frozen. Rinse fish and pat dry with paper towels. Measure thickness of the fish and place fish in a shallow dish. For marinade, in a small bowl whisk together the 2 tablespoons lime juice, orange juice, olive oil, garlic, ancho chile pepper, 1/4 teaspoon salt and black pepper; pour mixture over fish. Marinate at room temperature for 15 minutes. Meanwhile, for cabbage slaw, in a large bowl combine cabbage, jalapeno and cilantro. In a small bowl whisk together the yogurt, mayonnaise dressing, 1 tablespoon lime juice, cumin and 1/4 teaspoon salt. Stir dressing into cabbage mixture. Cover and chill until serving time.
Preheat oven to 450 degrees F. Coat a 15x10x1-inch baking pan with cooking spray. Remove fish from marinade and discard marinade. Place fish in a single layer in prepared pan. Bake for 4 to 6 minutes per 1/2-inch thickness of fish until fish begins to flake when tested with a fork, turning once. Or, grill fish directly over medium heat for 4 to 6 minutes per 1/2-inch thickness, turning once.
Nutrition Value
418 Kcal,
12g fat,
2g saturated fat,
9g fiber,
41g protein,
37g carbs