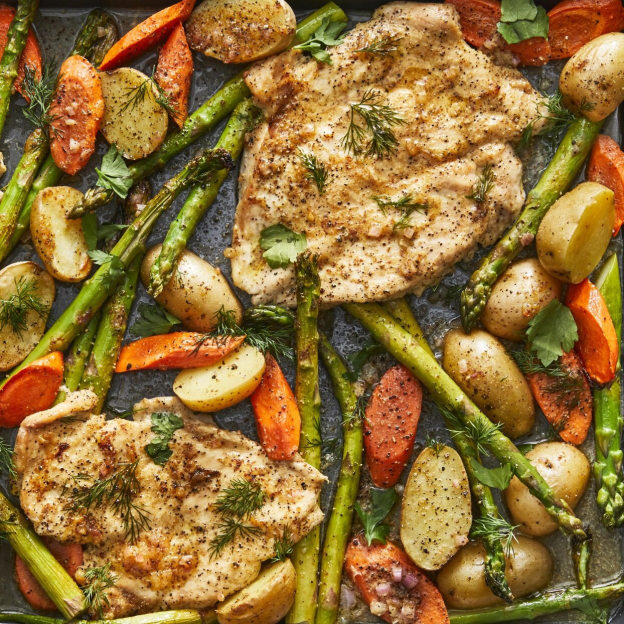 ONE-PAN CHICKEN & ASPARAGUS BAKE
In this chicken and asparagus recipe, we use one baking sheet to whip up Lunch quickly, veggies included.
MAKES 4 SERVING/ TOTAL TIME 35 MINUTES
INGREDIENTS
2 (8 ounce) boneless,
12 ounces baby Yukon Gold potatoes,
8 ounces carrots, diagonally sliced
3 tablespoons extra-virgin olive oil,
2 teaspoons ground coriander,
¾ teaspoon salt, divided
½ teaspoon ground pepper, divided
2 tablespoons lemon juice
2 tablespoons chopped shallot
1 tablespoon whole-grain Dijon mustard
2 teaspoons honey
1 pound fresh asparagus, trimmed
2 tablespoons chopped fresh flat-leaf parsley
1 tablespoon chopped fresh dill
Lemon wedges
METHOD
Preheat oven to 375 degrees F. Place chicken on a clean work surface and cover with plastic wrap. Using a meat mallet, pound the chicken pieces to an even 1/2-inch thickness. Arrange on one half of a large rimmed baking sheet. Arrange potatoes and carrots in a single layer on the other half of the pan. Drizzle the chicken and vegetables with 1 tablespoon oil; sprinkle with 1 teaspoon coriander, 1/2 teaspoon salt and 1/4 teaspoon pepper. Bake for 15 minutes. 1 teaspoon coriander, 1/4 teaspoon salt and 1/4 teaspoon pepper in a small bowl.
Remove the pan from the oven; switch the oven to broil. Stir the potato-carrot mixture; arrange asparagus in the center of the pan. Spoon the lemon juice-shallot mixture evenly over the chicken and vegetables, asparagus is tender-crisp and a thermometer inserted in the thickest portion of the chicken registers 165 degrees F, about 10 minutes. Remove from oven; sprinkle evenly with parsley and dill. Serve with lemon wedges.
Nutrition Value
352 Kcal,
13.8g fat,
2.3g saturated fat,
5.7g fiber,
27.6g protein,
30.7g carbs