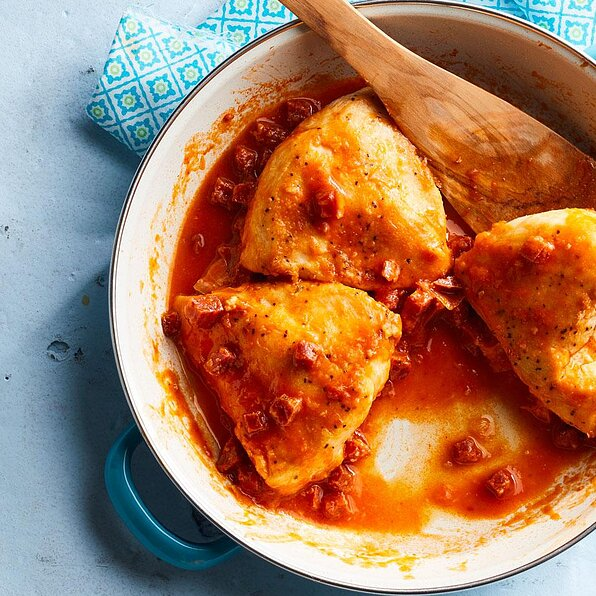 You'll only need 5 ingredients and 30 minutes for this healthy chicken recipe
MAKES 4 SERVING/ TOTAL TIME 30 MINUTES
INGREDIENTS
2 8-ounce boneless, skinless chicken breasts, trimmed
2 tablespoons all-purpose flour
1 tablespoon tomato paste
½ cup diced sopressata or salami (about 2 ounces)
1 medium lemon, peeled, seeded and chopped
METHOD

STEP 1

Cut chicken in half crosswise and sprinkle with 1/4 teaspoon each salt and pepper. Place flour on a plate and dredge both sides of the chicken in it. Shake off any excess. Whisk tomato paste and 1/3 cup water in a small bowl and place near the stove.
STEP 2
Heat 2 tablespoons oil in a large skillet over medium heat. Add the chicken and cook, turning once, until browned on both sides, about 10 minutes. Transfer to a plate.
STEP 3
Add sopressata (or salami) to the pan and cook, stirring, until browned, 1 to 2 minutes. Stir in the tomato paste mixture and lemon. Return the chicken to the pan, cover and cook, turning once, until the sauce has thickened and an instant-read thermometer inserted into the thickest part of the chicken registers 165 degrees F, 5 to 7 minutes.
Nutrition Value
242 Kcal,
12.9g fat,
3.1g saturated fat,
0.3g fiber,
25.3g protein,
4.9g carbs