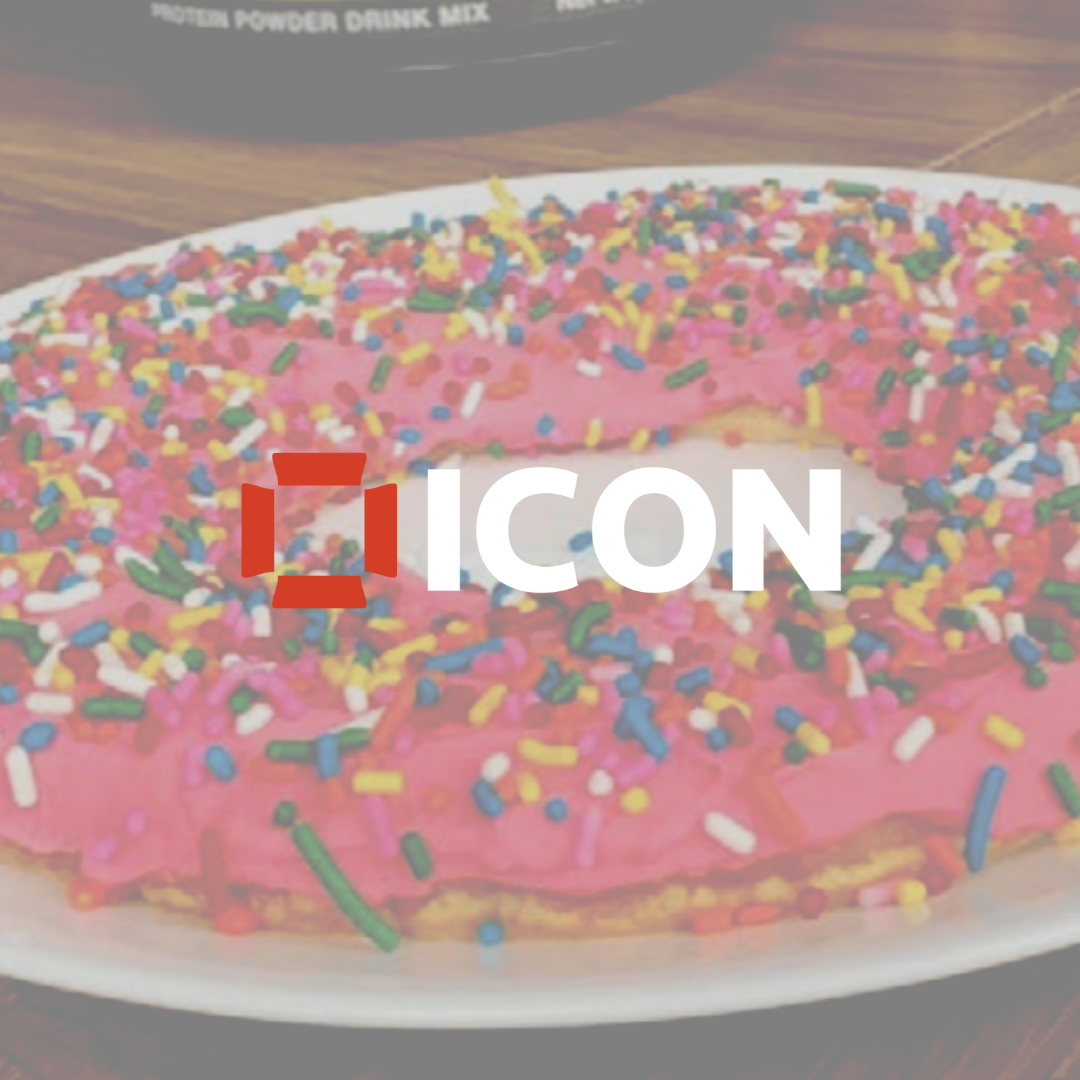 Giant Homer Simpson Protein Donut
1 Servings Per Recipe
Serving Size 1 Donut
Amount Per Serving WITHOUT SPRINKLES On Top:
Calories 385 
Fat 5g
Carbohydrates 31g
Protein 54g
INGREDIENTS:
For Cake (Donut Base):
1 Scoop ICON Nutrition Grass Fed Whey Protein (Cinnamon Vanilla Swirl)
10g Coconut Flour 45g Unsweetened Apple Sauce
15g Pure Pumpkin
70g Egg Whites 90ml Unsweetened Vanilla Almond Milk
2g Vanilla Extract 3g Baking Powder
3g Zero Cal Sweetener of your choice
FOR PROTEIN ICING:
20g ICON Nutrition Grass Fed Whey Protein (Strawberry Milkshake)
8g Coconut Flour
45g Plain Non-fat Greek Yogurt
2g Stevia
30ml Cold Water
4-6 Drops Natural Red Food Coloring
DIRECTIONS:
1. Preheat your oven to 200 C / 400 degrees F. Add all dry donut ingredients to a bowl and mix. Then mix your wet ingredients in another bowl. Slowly mix your dry ingredients with your wet until you have a nice batter like consistency. Add more water if you need to.
2. Add about half the batter to your giant donut pan, then place that in the oven for 12-15 minutes. You'll know it's done when the top is no longer liquidy.
3. Once your donut is done, add it to a cooling rack to ensure it cools evenly.
4. While that's cooling, make your protein icing. Add your greek yogurt to a bowl, then add your dry ingredients on top and mix until you get an extremely thick consistency. Slowly mix in your cold water until you get a thick icing-like consistency. If you need to add more, that's okay. If you accidentally add too much, put your bowl in the freezer for 5-10 minutes to thicken. Add your food coloring in last to get the strawberry color.
5. Add your frosting using this tool, add some sprinkles on top (if you want), then enjoy the tasty Homer Simpson Donut Gainzzz!