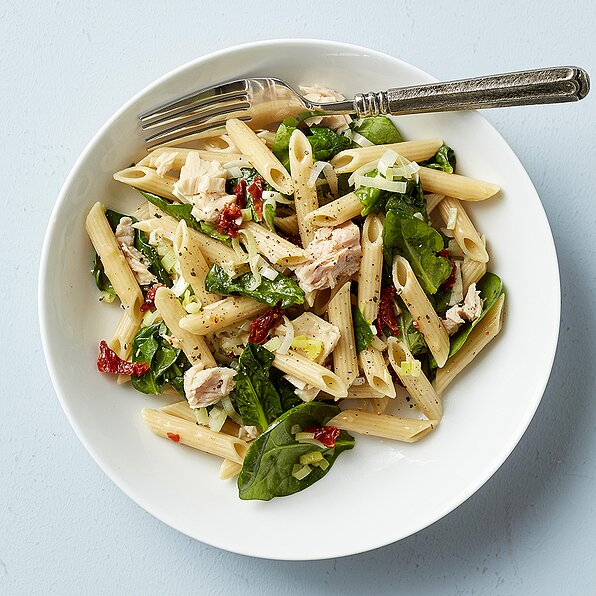 This penne pasta dinner-for-two combines leeks, baby spinach, tuna and sun-dried tomatoes--and it's ready in just 20 minutes!
MAKES 4 SERVING/ TOTAL TIME 30 MINUTES
INGREDIENTS
3 ounces dried multi-grain high-protein penne pasta
1 tablespoon olive oil
¾ cup thinly sliced leeks (white parts only)
2 cloves garlic, minced
4 cups fresh baby spinach
1 2.6-ounce pouch albacore tuna in water, broken into large chunks
3 tablespoons reduced-calorie Italian salad dressing
2 tablespoons dried tomatoes (not oil-packed), snipped
Cracked black pepper
METHOD

STEP 1

In a large saucepan cook pasta according to package directions; drain. Return to saucepan.
STEP 2
Meanwhile, in a 10-inch skillet heat oil over medium-low. Add leeks and garlic; cook 5 to 7 minutes or until tender, stirring occasionally. Turn off heat. Add spinach; stir until slightly wilted.

STEP 3
Stir spinach mixture into pasta. Stir in tuna, Italian dressing and dried tomatoes. If desired, sprinkle with cracked black pepper.
Nutrition Value
305 Kcal,
10.6g fat,
1.3g saturated fat,
6.9g fiber,
16g protein,
41.1g carbs