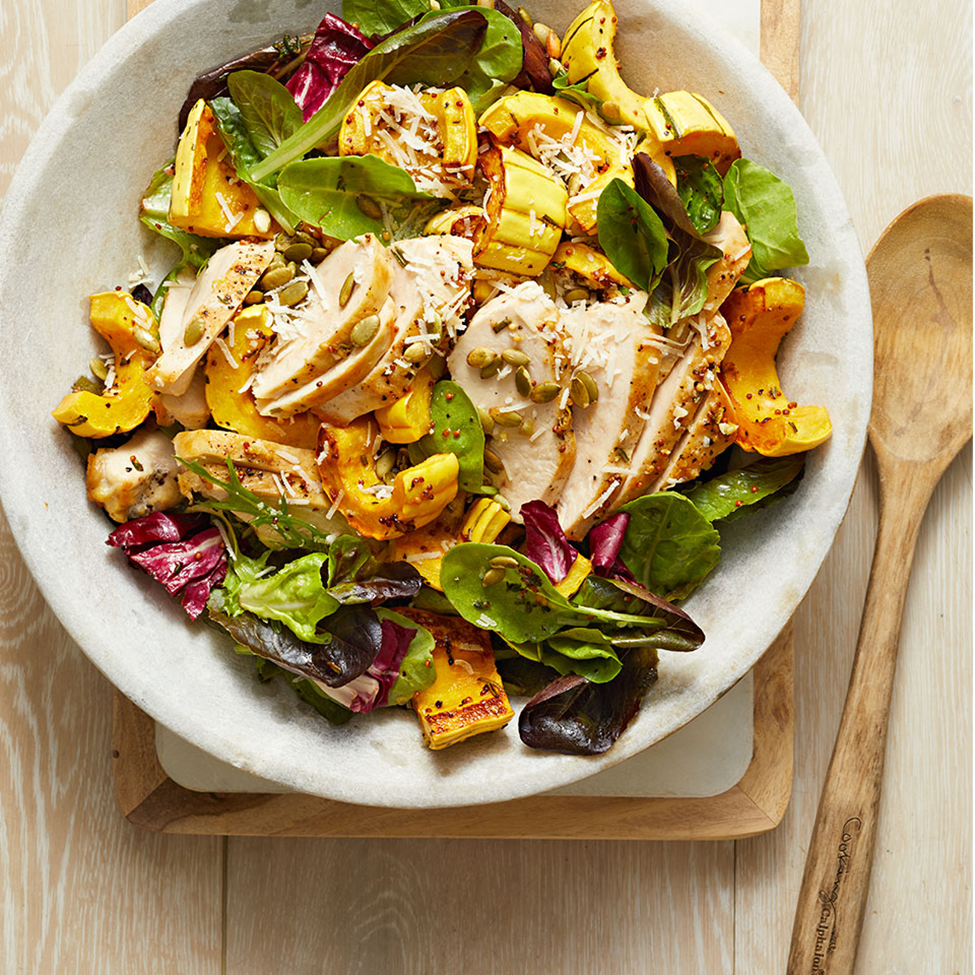 ROASTED CHICKEN & WINTER SQUASH OVER MIXED GREENS
This hearty salad comes together with little effort, since the squash and chicken can roast together on the same sheet pan.
MAKES 4 SERVING/ TOTAL TIME 45 MINUTES
INGREDIENTS
2 ½ pounds delicata or acorn squash
3 tablespoons extra-virgin olive oil,
2 tablespoons whole-grain mustard,
3 cloves garlic, minced
1 tablespoon chopped fresh rosemary
1 teaspoon grated lemon zest
2 tablespoons lemon juice, divided
1 teaspoon ground pepper, divided
½ teaspoon salt, divided
1 pound boneless, skinless chicken breast
1 tablespoon pure maple syrup
1 ½ teaspoons fresh thyme leaves
8 cups mixed salad greens
4 teaspoons grated Parmesan cheese
4 teaspoons salted roasted
METHOD

STEP 1

Preheat oven to 425 degrees F. Coat a large rimmed baking sheet with cooking spray. Cut squash in half lengthwise and remove seeds. Cut crosswise into 1-inch slices. Combine 1 tablespoon oil, 1 1/2 tablespoons mustard, garlic, rosemary, lemon zest, 1/2 tablespoon lemon juice, 1/2 teaspoon pepper, and 1/4 teaspoon salt in a large bowl. Add chicken and the squash and stir to coat. Arrange in a single layer on the prepared pan
STEP 2
Bake, without stirring or flipping, until the squash starts to brown and the chicken reaches an internal temperature of 165 degrees F, 20 to 22 minutes. Transfer the chicken to a clean cutting board and slice.
Meanwhile, whisk the remaining 2 tablespoons oil, 1/2 tablespoon mustard, 1 1/2 tablespoons lemon juice, maple syrup, thyme, and the remaining 1/2 teaspoon pepper and 1/4 teaspoon salt in a medium bowl. Add greens and toss to coat. Divide the greens among 4 serving plates.
Nutrition Value
415 Kcal,
16.5g fat,
2.7g saturated fat,
7.2g fiber,
31g protein,
38.7g carbs