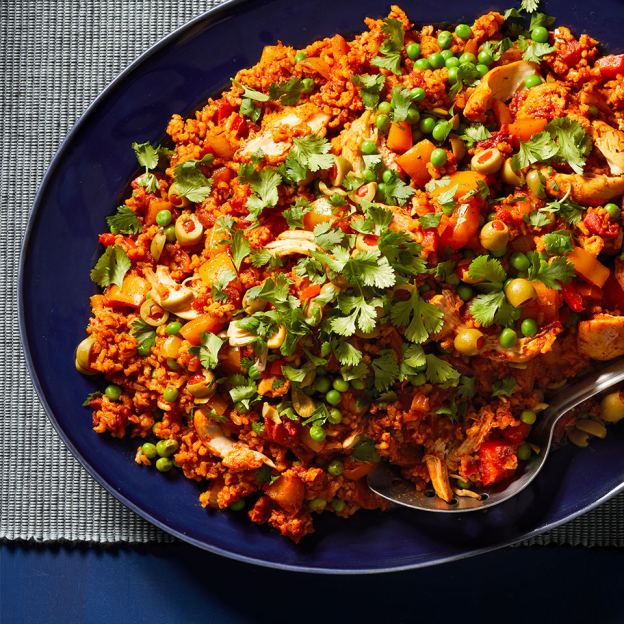 SLOW-COOKER ARROZ CON POLLO (CHICKEN & RICE)
This chicken Caesar salad wrap recipe is elevated by the irresistible smoky flavor of grilled chicken and grilled romaine.
MAKES 8 SERVING/ TOTAL TIME 6 HOUR 30 MINUTES
INGREDIENTS
3 large red, orange, and/or yellow bell peppers, chopped
1 small onion, chopped
3 cloves garlic, minced
1 (15 ounce) can no-sodium-added tomato sauce
1 (15 ounce) can no-sodium-added diced tomatoes, undrained
1 ½ cups reduced-sodium chicken broth
2 tablespoons chili powder
1 tablespoon paprika
1 teaspoon salt, divided
½ teaspoon ground pepper
½ teaspoon ground cumin
½ teaspoon saffron or 1/4 teaspoon ground turmeric
2 pounds boneless, skinless chicken thighs
2 cups instant brown rice, such as Minute Rice
1 cup frozen peas
½ cup chopped green olives with pimientos
¼ cup chopped fresh cilantro (Optional)
METHOD

STEP 1

Combine bell peppers, onion, garlic, tomato sauce, diced tomatoes, broth, chili powder, paprika, 1/2 teaspoon salt, pepper, cumin, and saffron (or turmeric) in a 6-qt. slow cooker. Nestle chicken into the mixture until submerged. Cover and cook on Low for 5 1/2 hours.
STEP 2
Stir in rice, peas, and the remaining 1/2 teaspoon salt. Cover and cook until the rice is tender and most of the liquid is absorbed, about 30 minutes more.
STEP 3
Using 2 forks, shred the chicken in the slow cooker. Top each serving with 1 tablespoon olives and garnish with cilantro, if desired.
Nutrition Value
299 Kcal,
5.8g fat,
0.9g saturated fat,
5.2g fiber,
28.8g protein,
34.5g carbs