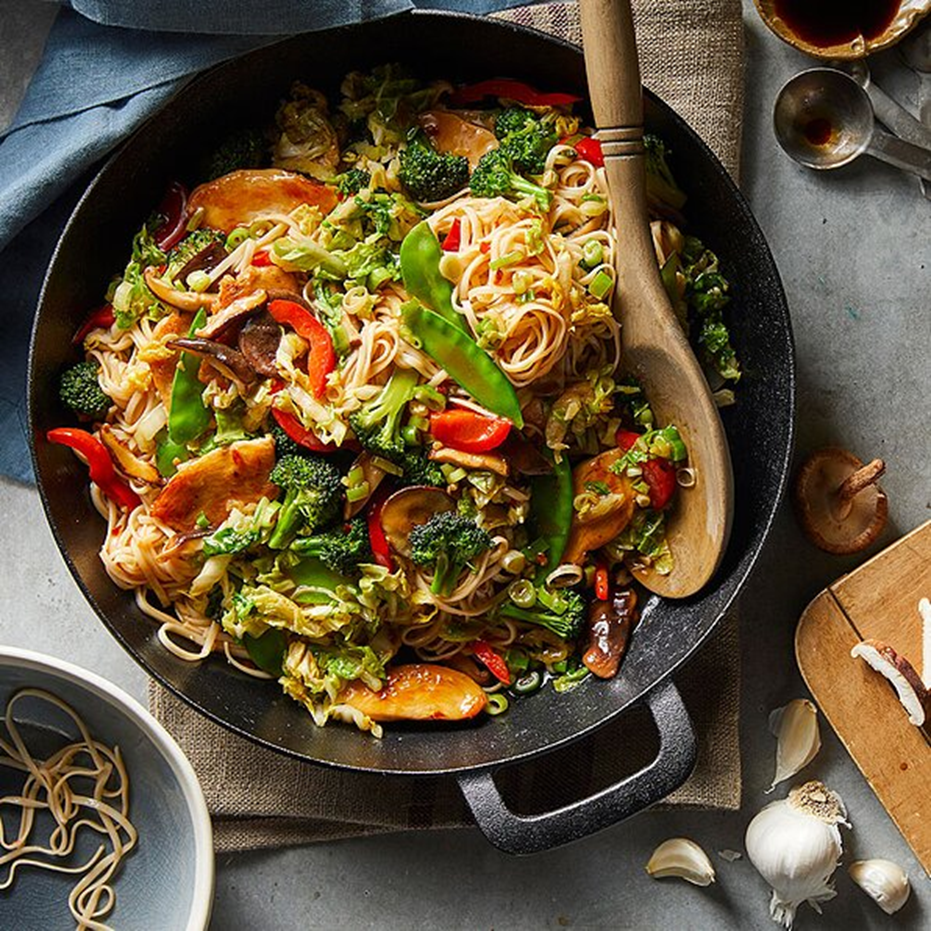 Jam-packed with a colorful medley of vegetables, this classic noodle dish relies on a bold sesame-soy sauce to tie all the flavors and textures together.
MAKES 4 SERVING/ TOTAL TIME 60 MINUTES
INGREDIENTS
2 tablespoons plus 2 teaspoons sesame oil, divided
3 tablespoons reduced-sodium soy sauce
¼ teaspoon crushed red pepper
12 ounces boneless, skinless chicken breast, cut into 1/4-inch slices
8 ounces lo mein noodles
1 teaspoon chile-garlic sauce
3 tablespoons vegetable oil, divided
5 ounces mushrooms, thinly sliced
4 cloves garlic, minced
2 tablespoons chopped fresh ginger
1 bunch scallions, thinly sliced
2 cups small broccoli florets
1 red bell pepper, sliced
4 ½ cups thinly sliced napa cabbage
¾ cup unsalted chicken broth
METHOD
Combine 2 tablespoons sesame oil, soy sauce and crushed red pepper in a large bowl. Add chicken, toss to coat, and set aside. Bring a large pot of water to a boil. Cook noodles in the boiling water according to package directions. Heat 1 tablespoon vegetable oil in a large skillet or wok over medium-high heat until shimmering. Add mushrooms and cook until juices are released and the mushrooms are golden and tender, 4 to 5 minutes.  Add 1 tablespoon vegetable oil to the pan and heat over medium-high heat until shimmering. Add broccoli, bell pepper, and snow peas. Cook until tender-crisp, 2 to 3 minutes. Stir in cabbage and cook until wilted, 2 minutes. Heat the remaining 1 tablespoon vegetable oil in the pan over medium-high heat. Add the reserved chicken, leaving the sauce in the bowl. Sauté the chicken until cooked through, 2 to 3 minutes. Meanwhile, add broth and cornstarch to the reserved sauce and whisk to combine. Add the sauce to the pan with the chicken; simmer until thickened, 1 to 2 minutes. Add the vegetable mixture to the pan and toss to combine.
Nutrition Value
414 Kcal,
23.4g fat,
17.5g saturated fat,
5g fiber,
27g protein,
26.6g carbs