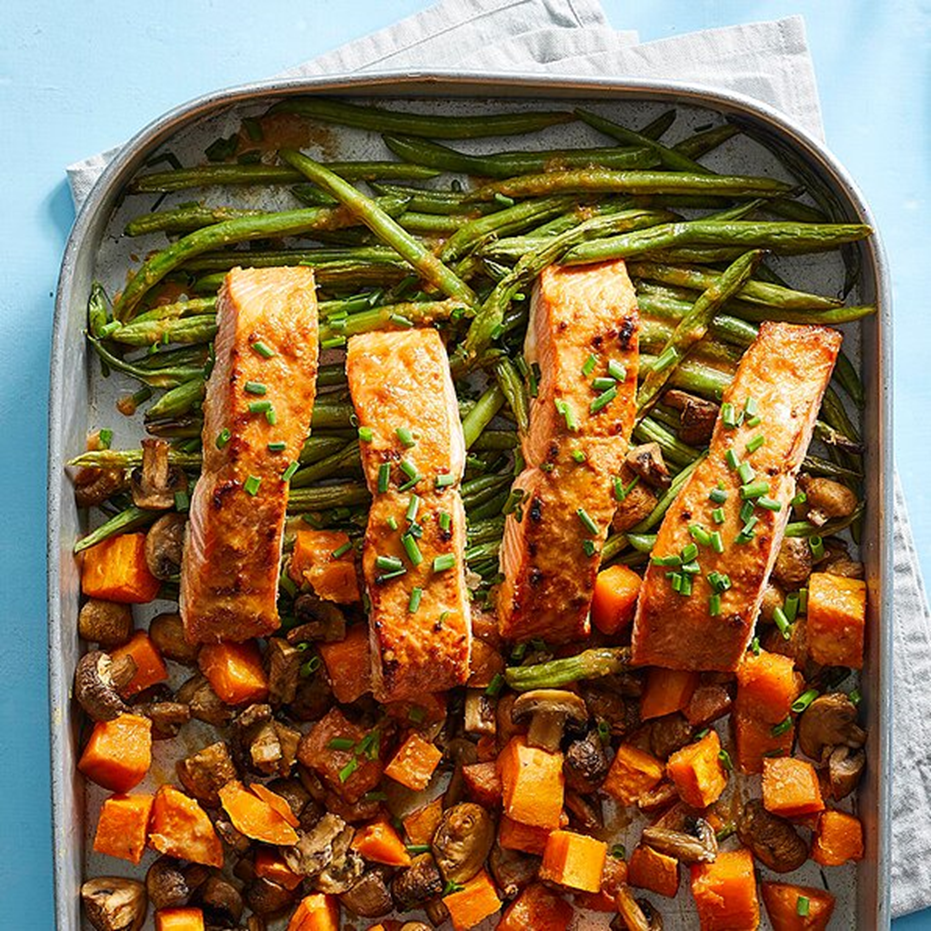 GINGER-TAHINI OVEN-BAKED SALMON & VEGETABLES
The tahini sauce does double duty in this healthy salmon recipe, serving as a glaze for the fish and also as a drizzle for the entire dish at the end of cooking. 
MAKES 4 SERVING/ TOTAL TIME 60 MINUTES
INGREDIENTS
1 large sweet potato, cubed (about 12 oz.)
1 pound white button
2 tablespoons olive oil, divided
½ teaspoon salt, divided
1 pound green beans, trimmed
2 tablespoons reduced-sodium soy sauce
1 tablespoon plus 2 tsp. tahini
1 tablespoon plus 1 tsp. honey
1 ½ teaspoons finely grated fresh ginger
1 ¼ pounds salmon, preferably wild-caught, cut into 4 portions
2 teaspoons rice vinegar
2 tablespoons chopped fresh chives (Optional)
METHOD
Place a large rimmed baking sheet in the oven. Position one rack in the middle of the oven and another about 6 inches from the broiler. Preheat to 425 degrees F.
Combine sweet potato, mushrooms, 1 Tbsp. oil, and 1/4 tsp. salt in a large bowl; toss to coat. Remove the baking sheet from the oven. Spread the vegetable mixture in an even layer on the pan; roast, stirring once, until the sweet potatoes are starting to brown, about 20 minutes. Meanwhile, toss green beans with the remaining 1 Tbsp. oil and 1/4 tsp. salt. Combine soy sauce, tahini, honey, and ginger in a small bowl.
Place salmon in the middle, nestling it on top of the vegetables, if necessary. Spread half of the tahini sauce on top of the salmon. Roast until the salmon flakes, 8 to 10 minutes more. Turn broiler to high; move the pan to the top rack and broil until the salmon is glazed, about 3 minutes. Stir vinegar into the remaining tahini sauce and drizzle it over the salmon and vegetables. Garnish with chives, if desired, and serve.
Nutrition Value
555 Kcal,
29.9g fat,
5.9g saturated fat,
7.6g fiber,
37.7g protein,
37.3g carbs