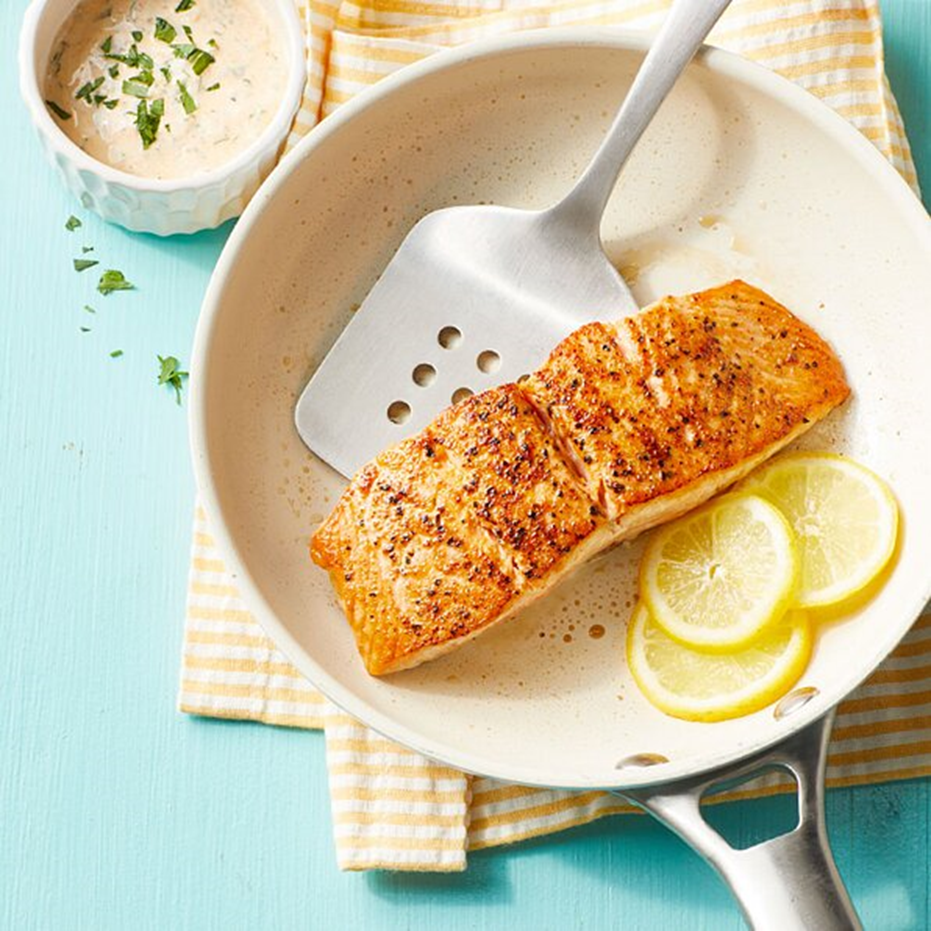 CAJUN SALMON WITH GREEK YOGURT REMOULADE
Paprika and garlic powder make a quick Cajun-inspired seasoning that flavors salmon fillets in this easy dinner recipe. 
MAKES 4 SERVING/ TOTAL TIME 25 MINUTES
INGREDIENTS
4 (5 ounce) salmon fillets
¼ cup nonfat plain Greek yogurt
1 small shallot, finely chopped
2 tablespoons finely chopped fresh Italian parsley
2 teaspoons cider vinegar
1 teaspoon prepared horseradish
1 teaspoon Dijon mustard
¼ teaspoon sweet paprika plus 1/8 teaspoon, divided
⅛ teaspoon garlic powder plus 1/4 teaspoon, divided
Pinch of salt plus 1/4 teaspoon, divided
Pinch of ground pepper plus 1/8 teaspoon, divided
3 teaspoons olive oil, divided
METHOD

STEP 1

Bring fish to room temperature by letting it stand on the counter for 15 minutes.
STEP 2
Meanwhile, whisk together yogurt, shallot, parsley, vinegar, horseradish, mustard, 1/4 tsp. paprika, 1/8 tsp. garlic powder, and a pinch each of salt and pepper in a small bowl. Cover and refrigerate until ready to use.
STEP 3
Pat both sides of the fish dry with a paper towel. Brush both sides with 2 tsp. oil. Season both sides evenly with the remaining 1/4 tsp. each salt and garlic powder, and 1/8 tsp. each paprika and pepper.
STEP 4
Heat the remaining 1 tsp. oil in a large nonstick skillet over medium-high heat. When hot, add the fish, skinned-side up. Cook, pressing down on the fish with a spatula, but otherwise not moving the fillets, until the undersides are golden brown, about 5 minutes.
Nutrition Value
243 Kcal,
9.6g fat,
2g saturated fat,
0.3g fiber,
35g protein,
2g carbs