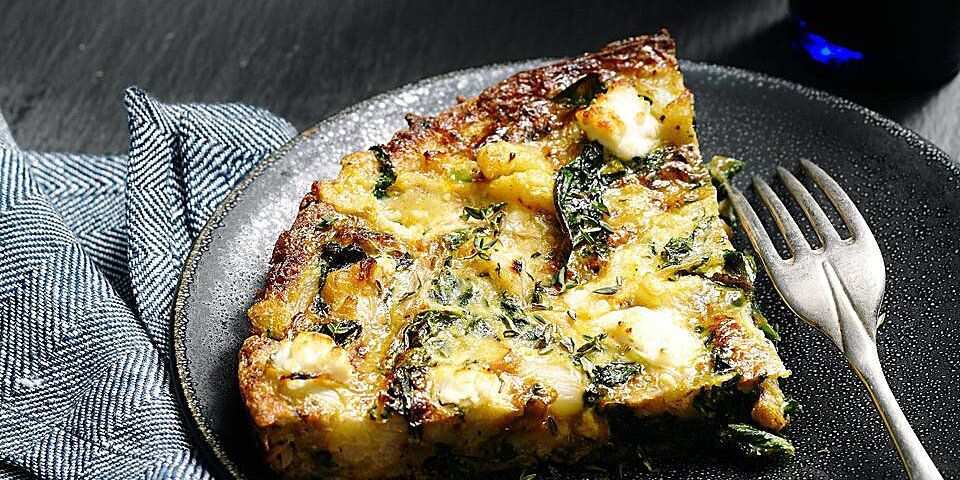 CAULIFLOWER & KALE FRITTATA
Inspired by traditional Spanish tortillas made with potatoes, this healthy frittata recipe swaps potatoes for low-carb cauliflower. 
MAKES 4 SERVING/ TOTAL TIME 45 MINUTES
INGREDIENTS
2 tablespoons extra-virgin olive oil, divided
1 small onion, sliced
2 cups small cauliflower florets
¼ cup water
5 cups chopped kale
3 cloves garlic, minced
1 teaspoon chopped fresh thyme
½ teaspoon salt, divided
½ teaspoon ground pepper, divided
8 large eggs
½ teaspoon smoked paprika
½ cup crumbled goat cheese
METHOD

STEP 1

Position a rack in upper third of oven; preheat broiler to high. Heat 1 tablespoon oil in a large cast-iron skillet over medium heat. Add onion and cook, stirring occasionally, until starting to brown, 2 to 4 minutes. Add cauliflower and water. Cover and cook until just tender, about 6 minutes. Add kale, garlic, thyme and 1/4 teaspoon each salt and pepper; cook, stirring often, until the kale is wilted, 2 to 3 minutes. Whisk eggs, paprika and the remaining 1/4 teaspoon salt and pepper in a large bowl. Add the vegetables to the egg mixture; gently stir to combine. Wipe the pan clean; add the remaining 1 tablespoon oil and heat over medium heat. Pour in the egg mixture and top with cheese. Cover and cook until the edges are set and the bottom is brown, 4 to 5 minutes.
STEP 2
Combine yogurt, mayonnaise, tarragon, salt and pepper in a large bowl. Add the cold chicken, celery, grapes (if using) and pecans; stir to combine.

STEP 3
Transfer the pan to the oven and broil until the top of the frittata is just cooked, 2 to 3 minutes.
Nutrition Value

293 Kcal,
21.1g fat,
7.1g saturated fat,
2.3g fiber,
17.9g protein,
7.9g carbs