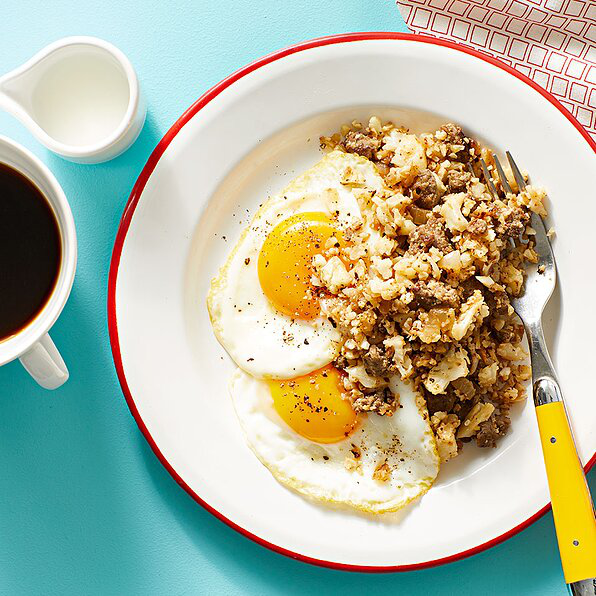 CAULIFLOWER HASH WITH SAUSAGE & EGGS
This easy and nutritious version of breakfast hash uses cauliflower rice instead of potatoes, and turkey sausage instead of breakfast sausage, for a healthier, low-carb breakfast. 
MAKES 4 SERVING/ TOTAL TIME 25 MINUTES
INGREDIENTS
4 teaspoons olive oil, divided
1 small onion, diced
2 cloves garlic, minced
8 ounces turkey sausage
16 ounces cauliflower rice
¼ teaspoon salt
⅛ teaspoon ground pepper
3 tablespoons water
8 large eggs
METHOD

STEP 1

Heat 2 teaspoons oil in a large nonstick skillet over medium heat. Add onion and garlic; cook, stirring, until translucent. Add sausage; cook, stirring, until cooked through, 4 to 5 minutes. Transfer the mixture to a plate
STEP 2
Increase heat to medium-high and add cauliflower rice to the pan in an even layer. Cook without stirring until it starts to turn golden brown, 2 to 3 minutes. Then stir and add salt, pepper, and water. Cover and cook until tender and golden, 3 to 4 minutes. Stir the sausage mixture back in and heat through, about 2 minutes.

STEP 3
Heat 1 teaspoon oil in a medium nonstick skillet over medium heat. Break 4 eggs into the pan and cook until the whites are set but the yolks are still runny, about 3 minutes. Transfer to a plate and repeat with the remaining 1 teaspoon oil and the remaining 4 eggs.
Nutrition Value

17 Kcal,
18.8g fat,
4.9g saturated fat,
2.7g fiber,
25.9g protein,
7.8g carbs