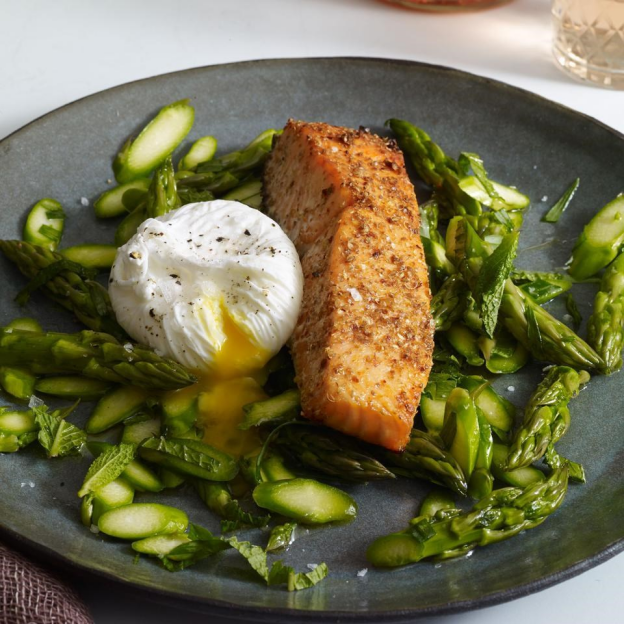 CORIANDER-&-LEMON-CRUSTED SALMON WITH ASPARAGUS SALAD & POACHED EGG
Crushed coriander seeds and lemon zest give this quick salmon recipe praiseworthy flavor that pairs beautifully with a shaved asparagus and poached egg salad. 
MAKES 4 SERVING/ TOTAL TIME 45 MINUTES
INGREDIENTS
1 tablespoon coriander seeds
1 teaspoon lemon zest
¾ teaspoon fine sea salt, divided
½ teaspoon crushed red pepper
1 pound wild salmon (see Tips), skin-on, cut into 4 portions
1 pound asparagus, trimmed
2 tablespoons extra-virgin olive oil
1 tablespoon lemon juice
1 tablespoon chopped fresh mint
1 tablespoon chopped fresh tarragon
¼ teaspoon ground pepper, plus more for garnish
8 cups water
1 tablespoon white vinegar
4 large eggs
METHOD
Position a rack in upper third of oven; preheat broiler to high. Coat a rimmed baking sheet with cooking spray.
Toast coriander in a small skillet over medium heat, shaking the pan frequently, until fragrant, about 3 minutes. Pulse the coriander, lemon zest, 1/2 teaspoon salt and crushed red pepper in a spice grinder until finely ground. Coat the salmon flesh with the spice mixture and place the salmon on the prepared baking sheet. Let stand while you cook the salmon and eggs.
Bring water and vinegar to a boil in a large saucepan.
Meanwhile, broil the salmon until just cooked through, 3 to 6 minutes, depending on thickness . Gently stir in a circle so the water is swirling around the pot. Crack eggs, one at a time, into the water. Cook until the whites are set but the yolks are still runny, 3 to 4 minutes. To serve, divide the asparagus salad and salmon among 4 plates.
Nutrition Value
288 Kcal,
16.3g fat,
3.5g saturated fat,
1.9g fiber,
30.5g protein,
4.2g carbs