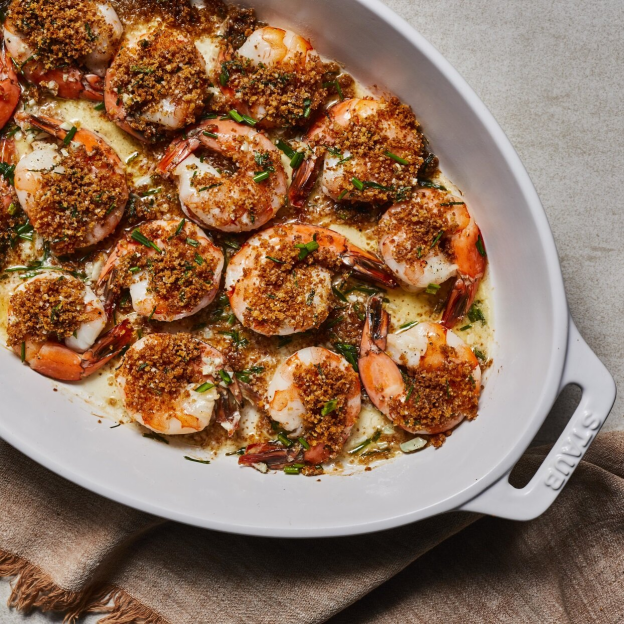 CRISPY PANKO-PARMESAN BAKED SHRIMP
This easy baked shrimp dish is crispy, lemony, garlicky, buttery and simply delicious! 
MAKES 4 SERVING/ TOTAL TIME 30 MINUTES
INGREDIENTS
⅓ cup whole-wheat panko breadcrumbs
3 tablespoons olive oil, divided
1 ½ pounds jumbo peeled, deveined raw shrimp (8-12 count), tail-on
¼ teaspoon ground pepper
⅛ teaspoon salt
2 tablespoons unsalted butter, melted
2 tablespoons fresh lemon juice
1 tablespoon finely chopped garlic
¼ cup grated Parmesan cheese
2 tablespoons chopped fresh chives
METHOD

STEP 1

Preheat oven to 425 degrees F. Heat a small skillet over medium heat. Add panko to the pan; cook, stirring occasionally, until toasted and golden, 7 to 8 minutes. Transfer the panko to a small bowl. Coat the bottom of a 13-by-9-inch glass, ceramic or enamel-coated baking dish with 1 tablespoon oil. Pat shrimp dry; place in a single layer in the prepared baking dish. Sprinkle the shrimp evenly with pepper and salt.
STEP 2
Whisk butter, lemon juice and garlic in a small bowl; pour the mixture evenly over the shrimp. Add Parmesan, chives and the remaining 2 tablespoons oil to the bowl with the panko; stir to combine. Sprinkle the mixture evenly over the shrimp. Bake until the shrimp are pink and cooked through, 8 to 10 minutes.
Nutrition Value
340 Kcal,
18.7g fat,
6g saturated fat,
0.8g fiber,
36.9g protein,
6.7g carbs