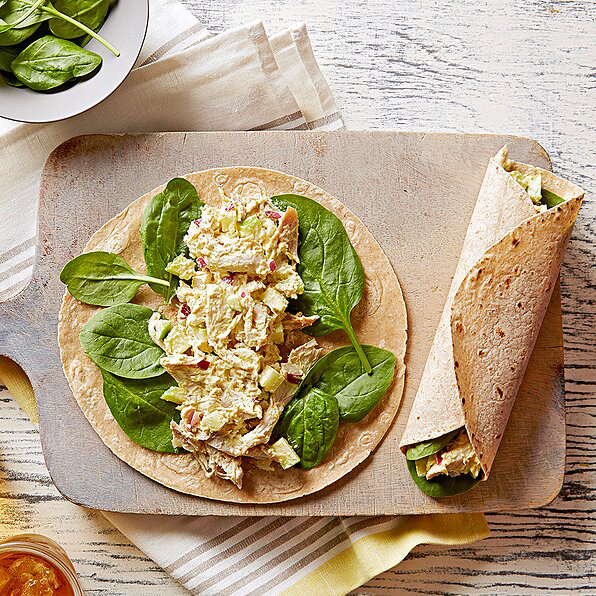 CURRIED CHICKEN APPLE WRAPS
Shredded chicken and chopped green apples are a delightful combination in this quick and easy curried sandwich wrap.
MAKES 2 SERVING/ TOTAL TIME 20 MINUTE
INGREDIENTS
1 cup shredded cooked chicken breast
½ cup chopped green apple
2 tablespoons chopped red onion
2 tablespoons light mayonnaise
2 tablespoons plain fat-free Greek yogurt
¼ teaspoon curry powder
2 6- to 7-inch low-carb flour tortillas, such as La Tortilla Factory® brand, warmed (see Tip)
12 baby spinach leaves or 2 leaf lettuce leaves
METHOD

STEP 1

Combine chicken, apple, onion, mayonnaise, yogurt and curry powder in a small bowl.
STEP 2
Line tortillas with spinach (or lettuce). Top with the chicken salad; roll up the tortillas. If desired, secure with toothpicks.
Nutrition Value

244 Kcal,
9.5g fat,
1.5g saturated fat,
8.1g fiber,
28.3g protein,
16.7g carbs