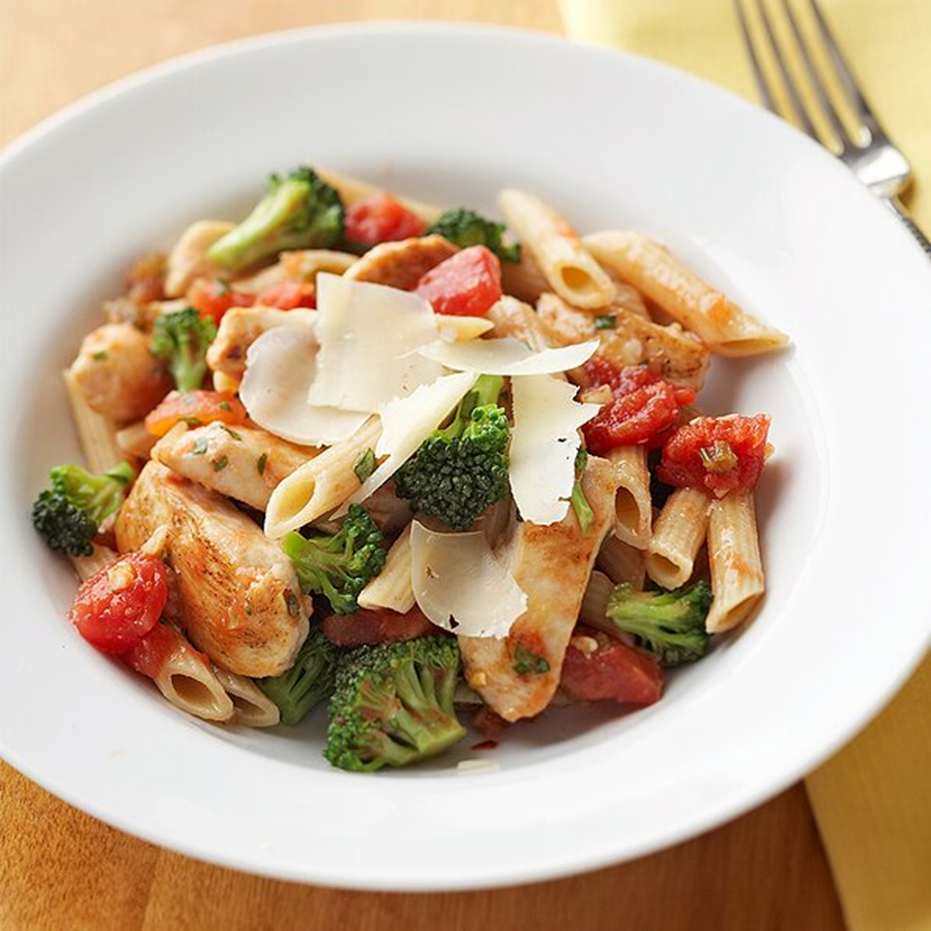 This quick and easy recipe tops multigrain or whole-grain pasta with flavorful chicken, broccoli and diced vegetables. 
MAKES 6 SERVING/ TOTAL TIME 30 MINUTES
INGREDIENTS
12 ounces skinless, boneless chicken breast halves
6 ounces dried multigrain or whole-grain penne pasta
1 tablespoon olive oil or canola oil
4 cloves garlic, minced
2 cups broccoli florets
1 (14.5 ounce) can diced tomatoes with green pepper, celery and onions, undrained
1 tablespoon snipped fresh basil or oregano
1 pinch Shaved Parmesan cheese
METHOD

STEP 1

Cut chicken into bite-size strips; set aside. Cook pasta according to package directions. Drain.
STEP 2
Meanwhile, in a large nonstick skillet, heat oil over medium-high heat. Add garlic and crushed red pepper; cook and stir for 30 seconds. Add broccoli; cook and stir for 3 minutes more. Remove broccoli from skillet.
STEP 3
Add chicken to the hot skillet; cook and stir for 3 to 4 minutes or until no longer pink. Return broccoli to the skillet. Add undrained tomatoes and drained pasta. Cook, stirring occasionally, until heated through.
To serve, divide mixture among four shallow bowls. Sprinkle with basil or oregano and, if desired, Parmesan cheese.
Nutrition Value
221 Kcal,
4g fat,
1g saturated fat,
3g fiber,
20g protein,
27g carbs
52.3g carbs