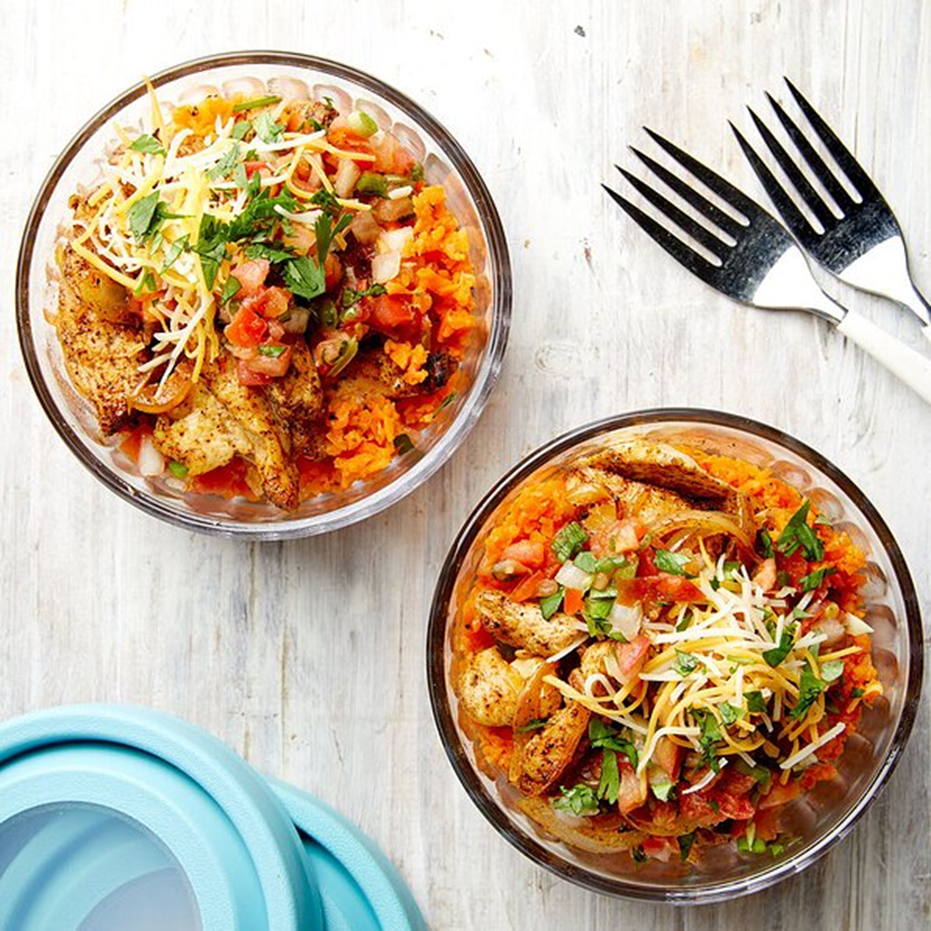 CHICKEN BURRITO BOWLS WITH SWEET POTATO RICE
Tired of cauliflower "rice" but looking for a low-carb swap for regular rice for your burrito bowl? Try sweet potato.
MAKES 4 SERVING/ TOTAL TIME 60 MINUTES
INGREDIENTS
2 medium sweet potatoes, peeled
3 tablespoons extra-virgin olive oil, divided
1 tablespoon chili powder
2 teaspoons ground cumin
1 teaspoon garlic powder
¾ teaspoon salt, divided
1 pound boneless, skinless chicken breasts, cut into 1/2-inch strips
3 cups sliced onions (1/2 inch thick)
¼ cup water
¼ teaspoon ground pepper
½ cup prepared pico de gallo salsa
½ cup shredded Mexican cheese blend
¼ cup chopped fresh cilantro
Lime wedges for serving
METHOD
Position rack in the upper third of oven. Preheat to 400 degrees F. Using a spiral vegetable slicer or a julienne
Whisk 2 tablespoons oil, chili powder, cumin, garlic powder and 1/2 teaspoon salt in a large bowl. Add chicken and onions; toss to coat well. Spread on a large rimmed baking sheet. Roast on the top rack for 12 minutes. Meanwhile, place the sweet potato strands in a food processor and pulse until about the size of rice grains. Heat the remaining 1 tablespoon oil in a large nonstick skillet over medium heat. Add the sweet potato "rice," water, pepper and the remaining 1/4 teaspoon salt; cook, stirring, until tender and the water has evaporated, 4 to 6 minutes. After the chicken has roasted for 12 minutes, turn broiler on high. Broil until the chicken is cooked through and the onions are browned in spots, about 5 minutes more. To serve, place about 3/4 cup sweet potato "rice" in each of 4 shallow bowls. Top with equal amounts of the chicken-onion mixture, salsa, cheese and cilantro.
Nutrition Value
400 Kcal,
18.1g fat,
4.6g saturated fat,
4.9g fiber,
31.7g protein,
27.6g carbs