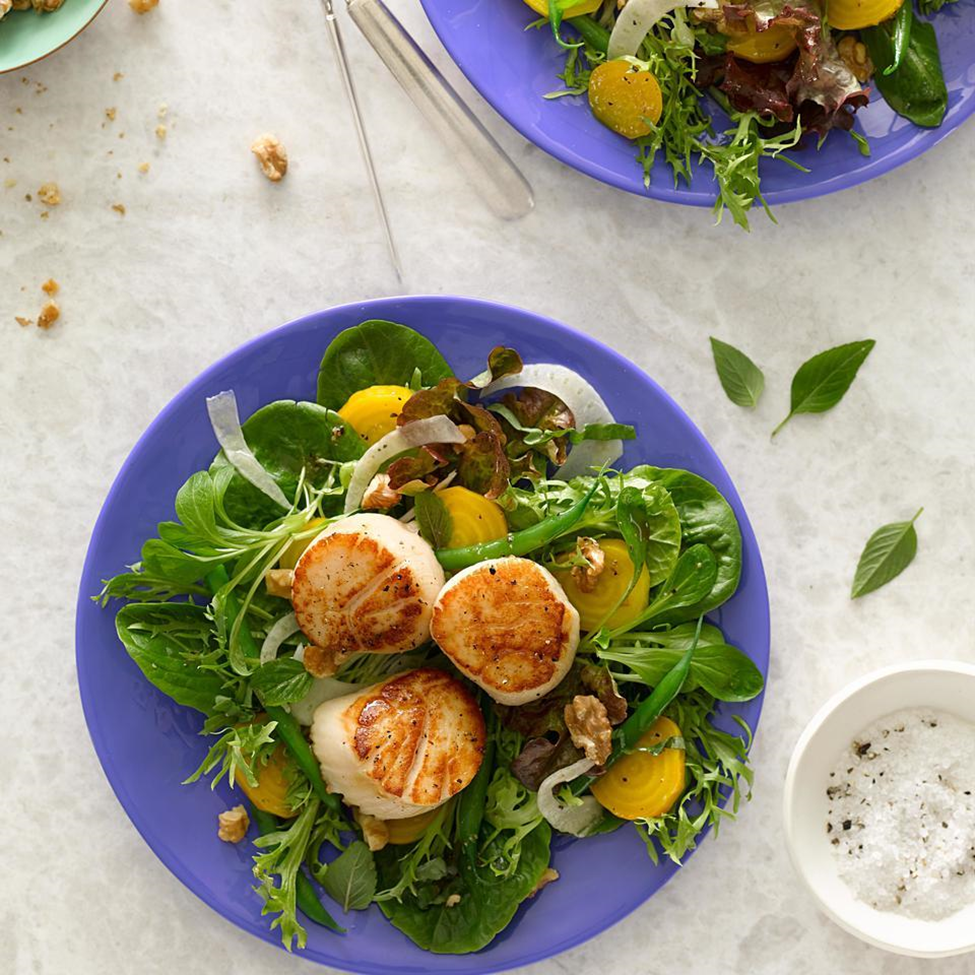 GOLDEN BEET, GREEN BEAN & FENNEL SALAD WITH SCALLOPS
Lemony seared scallops and a walnut vinaigrette top this healthy dinner salad.
MAKES 6 SERVING/ TOTAL TIME 60 MINUTES
INGREDIENTS
Walnut Vinaigrette
⅓ cup walnut oil,
3 tablespoons sherry vinegar
1 tablespoon lemon juice
1 teaspoon kosher salt
½ teaspoon ground pepper
Salad
6 small golden beets (about 1 pound)
8 ounces thin green beans, trimmed
½ cup walnut halves, toasted
8 cups mixed greens
1 fennel bulb,
½ cup slivered fresh basil
18 dry sea scallops
1 tablespoon lemon zest
½ teaspoon ground pepper
1 tablespoon extra-virgin olive oil
METHOD

STEP 1

To prepare vinaigrette: Whisk walnut oil, vinegar, lemon juice, salt and 1/2 teaspoon pepper in a large bowl until well combined.
STEP 2
To prepare salad: Place beets in a medium saucepan, cover with cold water and bring to a boil. Reduce heat and simmer, partially covered, until tender, 20 to 30 minutes. Rinse with cold water to cool slightly. Peel and slice the beets. Meanwhile, bring a large saucepan of water to a boil. Add green beans and cook until tender-crisp, 3 to 6 minutes. Rinse with cold water to cool slightly. Drain, then pat dry. Break walnut halves into pieces still large enough to pick up with a fork. Add the walnuts and beets to the vinaigrette and let marinate for 15 minutes, stirring occasionally. Add the green beans, greens, fennel and basil to the bowl; toss to combine. Divide the salad among 6 plates. Pat scallops dry and sprinkle both sides with lemon zest and pepper. Heat olive oil in a large cast-iron or nonstick skillet over medium-high heat.
Nutrition Value
319 Kcal,
20.8g fat,
2.2g saturated fat,
6.6g fiber,
16.3g protein,
19.3g carbs