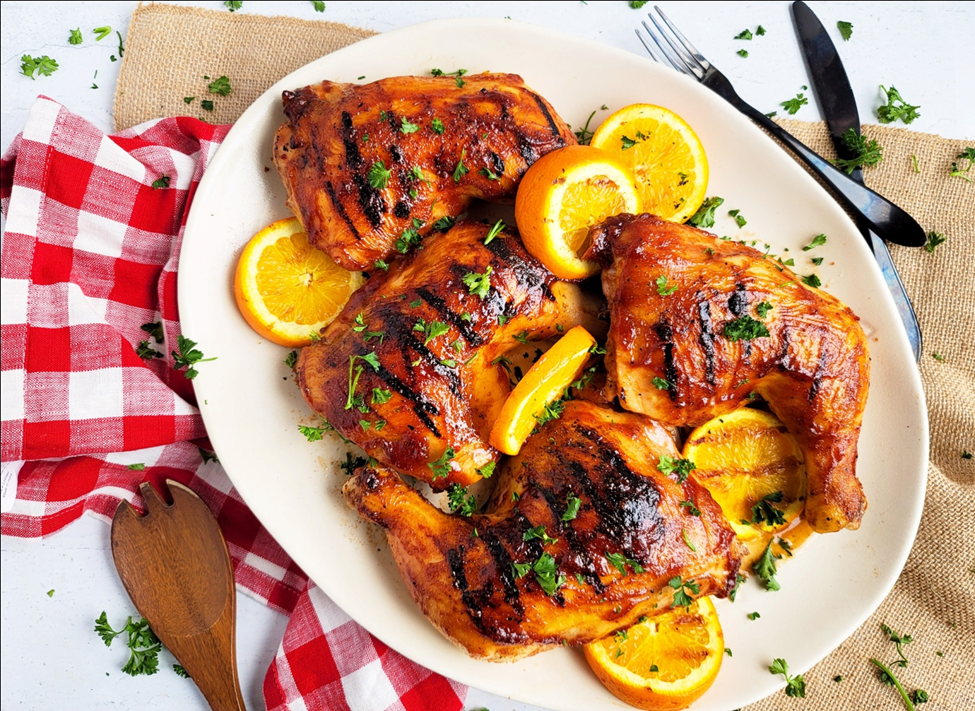 GRILLED CHICKEN WITH CITRUS-BBQ GLAZE
This healthy barbecue chicken recipe is easy to make and is packed with so much flavor, thanks to the sweetness from orange zest and juice.
MAKES 4 SERVING/ TOTAL TIME 60 MINUTES
INGREDIENTS
1 cup barbecue sauce
Zest of 1 orange
¼ cup freshly squeezed orange juice
3 tablespoons olive oil
1 tablespoon garlic powder
½ teaspoon paprika
½ teaspoon salt
½ teaspoon ground pepper
4 chicken leg quarters (about 4 pounds)
Chopped parsley for garnish
1 navel orange, sliced, for garnish
METHOD

STEP 1

Whisk barbecue sauce, orange zest, orange juice, oil, garlic powder, paprika, salt and pepper in a large bowl. Remove 1/2 cup sauce for basting. Add chicken pieces to the remaining sauce in the bowl and toss to coat well. Refrigerate for at least 15 minutes.
STEP 2
Preheat grill to medium heat (325°F). Grill chicken for 5 minutes per side, basting with the reserved sauce once. Reduce heat to medium-low and continue grilling and basting often until an instant-read thermometer inserted into the thickest parts registers 165°F, 15 to 20 minutes more. (Discard any remaining marinade.)
STEP 3
Serve sprinkled with parsley and garnished with orange slices, if desired.
Nutrition Value
346 Kcal,
13g fat,
3g saturated fat,
18g fiber,
51g protein,
4g carbs