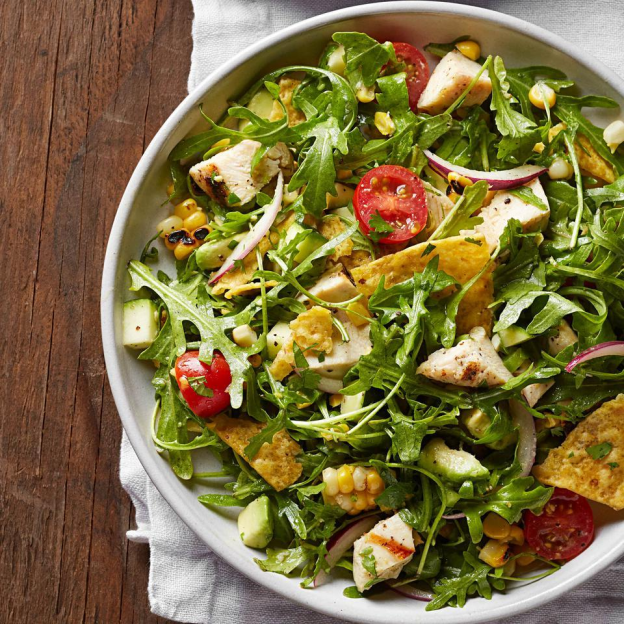 GRILLED CHICKEN TACO SALAD
Peppery arugula, grilled corn and a tangy lime vinaigrette give this healthy taco salad recipe a serious upgrade.
MAKES 4 SERVING/ TOTAL TIME 35 MINUTES
INGREDIENTS
2 tablespoons lime juice
2 tablespoons white-wine vinegar
¾ teaspoon salt, divided
¾ teaspoon ground pepper, divided
¼ cup extra-virgin olive oil
1 cup cherry tomatoes, halved
¾ cup diced zucchini
1 firm ripe avocado, diced
¼ cup thinly sliced red onion
1 jalapeño, minced (Optional)
2 pounds boneless, skinless chicken breast
1 large ear corn, husked
5 cups arugula (about 3 ounces)
1 cup coarsely broken tortilla chips
2 tablespoons chopped fresh cilantro
METHOD

STEP 1

Preheat grill to medium-high.
STEP 2
Combine lime juice, vinegar and 1/2 teaspoon each salt and pepper in a large bowl; whisk in oil. Add tomatoes, zucchini, avocado, onion and jalapeño, if using; gently toss to coat. Set aside.
STEP 3
Sprinkle chicken with the remaining 1/4 teaspoon each salt and pepper.
STEP 4
Oil the grill rack. Grill the chicken until an instant-read thermometer inserted into the thickest part registers 165 degrees F, 4 to 5 minutes per side. Grill corn until lightly charred on all sides, 2 to 4 minutes total. Transfer to a clean cutting board. Cut the chicken into bite-size pieces; cut corn kernels from the cob.
STEP 5
Add the chicken and corn to the tomato mixture; stir in arugula, tortilla chips and cilantro and gently toss to combine.
Nutrition Value
447 Kcal,
27.8g fat,
4.3g saturated fat,
6g fiber,
27.2g protein,
24.5g carbs