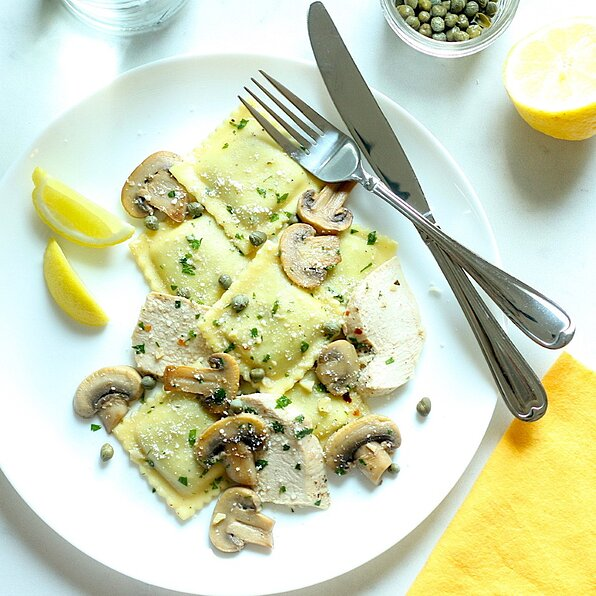 MUSHROOM RAVIOLI & CHICKEN PICCATA
This weeknight-friendly version of classic chicken piccata calls for mushroom ravioli, but regular cheese ravioli works too.
MAKES 4 SERVING/ TOTAL TIME 20 MINUTES
INGREDIENTS
2 packages frozen or refrigerated mushroom ravioli
1 tablespoon olive oil
1 tablespoon unsalted butter
1 package sliced mushrooms
⅛ teaspoon salt
⅛ teaspoon ground pepper
2 cloves garlic, minced
1 cup reduced-sodium chicken broth
3 tablespoons lemon juice
2 tablespoons capers
12 ounces cooked chicken breast, sliced
¼ cup chopped fresh parsley
¼ cup grated Parmesan cheese
Lemon wedges
METHOD

STEP 1

Bring a large pot of water to a boil. Cook ravioli according to package directions; drain and set aside.
STEP 2
Heat oil and butter in a large nonstick skillet over medium heat. Add mushrooms; cook until brown, 4 to 5 minutes. Season with salt and pepper.
STEP 3
Stir in garlic and crushed red pepper, if using; cook for 1 minute, stirring constantly.
STEP 4
Add broth; stir with a wooden spoon to scrape up the brown bits on the bottom of the pan. Add lemon juice and capers; bring the mixture to a simmer..
STEP 5
Add chicken; continue to simmer until the chicken is heated through. Fold in the cooked ravioli, parsley and Parmesan. Serve with lemon wedges.

Nutrition Value
447 Kcal,
13.7g fat,
5.5g saturated fat,
3.2g fiber,
38.6g protein,
43.2g carbs