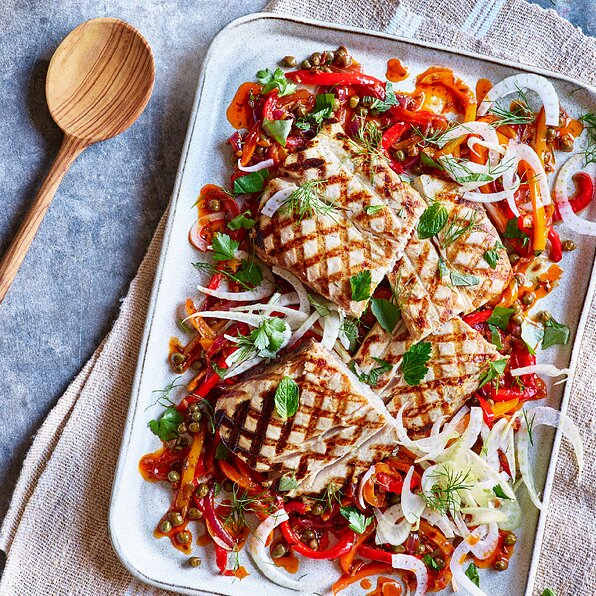 GRILLED FISH WITH PEPERONATA
This healthy grilled fish dish is made for easy summertime entertaining. The peperonata can be made in advance and reheated while you grill the fish.
MAKES 4 SERVING/ TOTAL TIME 45 MINUTES
INGREDIENTS
4 tablespoons extra-virgin olive oil, divided
3 cloves garlic, thinly sliced
1 tablespoon fennel seed
Pinch of crushed red pepper
1 medium red onion, thinly sliced
1 teaspoon chopped fresh oregano
1 teaspoon coarsely chopped fresh thyme
1 teaspoon paprika
8 cups thinly sliced bell peppers, any color
¼ cup capers, rinsed
2 tablespoons sherry vinegar
1 ½ pounds skinned banded rudderfish, amberjack, swordfish or mahi-mahi
½ teaspoon kosher salt
1/4 cup chopped mixed tender fresh herbs, such as parsley, basil and/or mint
¼ cup thinly sliced fennel
METHOD

STEP 1

Heat 2 tablespoons oil in a large pot over medium-low heat. Add garlic, fennel seed and crushed red pepper and cook, stirring often, until fragrant and the garlic starts to brown, 2 to 3 minutes. Add onion and cook, stirring occasionally, until softened, about 5 minutes. Stir in oregano, thyme and paprika. Add bell peppers, reduce heat to low and cook, stirring occasionally, until softened, about 20 minutes. Add capers and vinegar and cook for 2 minutes more. Meanwhile, preheat grill to medium-high.
STEP 2
Brush fish with the remaining 2 tablespoons oil and sprinkle with salt. Oil the grill rack. Grill the fish, turning once halfway, until the flesh is opaque, 6 to 10 minutes total, depending on thickness. Transfer the fish to a clean cutting board and cut into 4 portions. Arrange the fish over the peperonata and top with herbs and fennel.
Nutrition Value
396 Kcal,
24.6g fat,
4.4g saturated fat,
3.7g fiber,
31.2g protein,
11g carbs