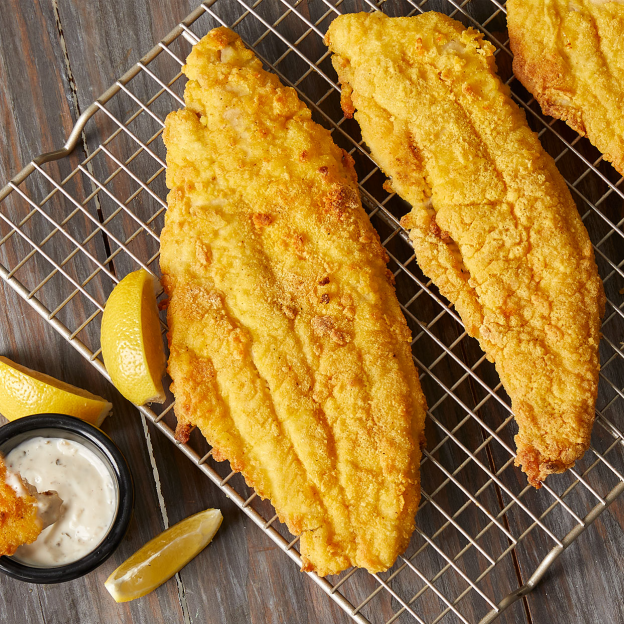 This baked catfish has a crispy cornmeal coating with a hint of spice from the Cajun seasoning, while the interior stays flaky and moist.
MAKES 4 SERVING/ TOTAL TIME 25 MINUTES
INGREDIENTS
Cooking spray
½ cup fine plain yellow cornmeal
¼ cup all-purpose flour
1 tablespoons salt-free Cajun-Creole seasoning blend (such as Spice Hunter)
1 large egg
4 (5 ounce) catfish fillets
½ teaspoon salt
Tartar sauce and lemon wedges (optional)
METHOD

STEP 1

Preheat oven to 450°F. Line a large rimmed baking sheet with foil and top with a wire rack. Coat the rack with cooking spray. Stir cornmeal, flour and Cajun-Creole seasoning blend together in a large shallow dish. Whisk egg in a separate shallow dish.
STEP 2
Pat fillets dry with a paper towel and sprinkle evenly with salt. Working with 1 fillet at a time, dip in the egg to coat, letting excess egg drip back into the dish. Then dredge in the cornmeal mixture, turning to coat both sides. Transfer to the prepared rack on the baking sheet. Repeat with the remaining fillets. Coat the tops of the fillets with cooking spray.
STEP 3
Bake until crispy and golden, 15 to 20 minutes, turning the fillets over and coating with cooking spray halfway through. If desired, serve with tartar sauce and lemon wedges.
Nutrition Value
232 Kcal,
7g fat,
2g saturated fat,
1g fiber,
30g protein,
11g carbs