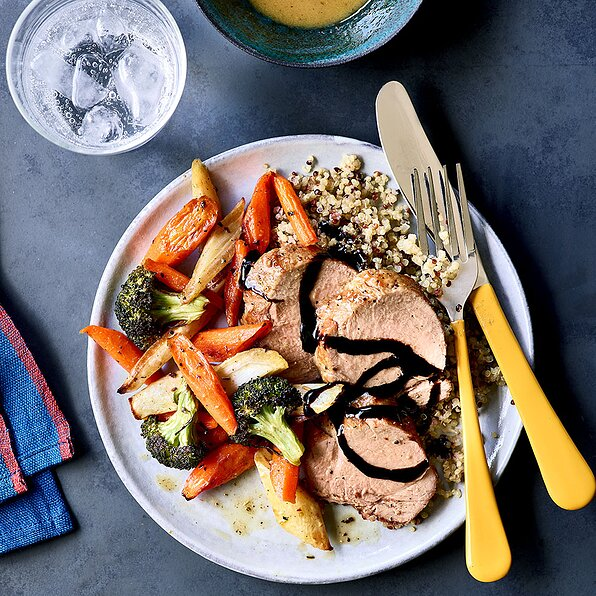 ITALIAN ROASTED PORK TENDERLOIN WITH VEGETABLES & QUINOA
For the best flavor in this easy roasted pork tenderloin dish, start marinating the pork the night before or get it going before you head off to work in the morning.
MAKES 4 SERVING/ TOTAL TIME 4 HOURS 45 MINUTES
INGREDIENTS
Italian Dressing
¾ cup red-wine vinegar
5 tablespoons water
1 ½ tablespoons sugar
1 tablespoon Dijon mustard
1 large clove garlic
2 teaspoons dried basil
2 teaspoons dried oregano
½ teaspoon salt
½ teaspoon ground pepper
1 ¾ cups extra-virgin olive oil
Pork & Vegetables
1 pound pork tenderloin
4 medium carrots
2 medium parsnips
1 medium broccoli crown
3 tablespoons extra-virgin olive oil, divided
2 teaspoons Italian seasoning
¾ teaspoon salt, divided
¾ teaspoon ground pepper, divided
4 tablespoons balsamic glaze
3 cups low-sodium chicken broth
1 tablespoon extra-virgin olive oil
¼ teaspoon salt
1 ½ cups quinoa
METHOD
To prepare dressing: Combine vinegar, water, sugar, mustard, garlic, basil, oregano, salt and pepper in a blender. Puree until smooth. With the motor running, slowly add oil and puree until creamy.  To prepare pork & vegetables: Place pork and 1/4 cup dressing in a large sealable bag. Press out air and seal. Massage the dressing all over the pork. Refrigerate for at least 4 hours or up to 24 hours. Position racks in upper and lower thirds of oven; preheat to 425 degrees F.
Peel carrots and parsnips and cut into 1-inch pieces. Cut broccoli into large florets, about 1 1/2 inches wide. Toss the vegetables with 2 tablespoons oil, Italian seasoning and 1/2 teaspoon each salt and pepper.
Roast the pork until an instant-read thermometer inserted in the thickest part registers 145 degrees F, about 20 minutes. Roast the vegetables, stirring once or twice, until tender and browned in spots, 20 to 25 minutes.
Nutrition Value
490 Kcal,
21.7g fat,
3.5g saturated fat,
7.9g fiber,
31g protein,
44.3g carbs