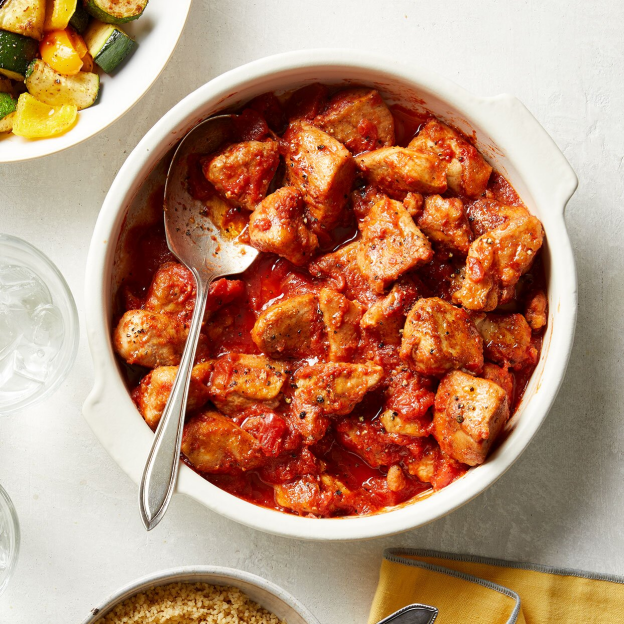 MOROCCAN CHICKEN & TOMATO STEW
This Moroccan chicken stew is inspired by a traditional tagine, a dish which takes its name from the pottery vessel it's made in (a skillet works here).
MAKES 4 SERVING/ TOTAL TIME 35 MINUTES
INGREDIENTS
2 tablespoons all-purpose flour
1 tablespoon Moroccan Spice Blend
1 pound boneless, skinless chicken breast, cut into 2-inch pieces
1 tablespoon extra-virgin olive oil
1 (15 ounce) can no-salt-added diced tomatoes
½ teaspoon salt
½ teaspoon ground pepper
METHOD

STEP 1

Whisk flour and spice blend in a medium bowl. Add chicken and toss to coat. Heat oil in a large skillet over medium heat. Add the chicken and cook, turning as needed, until browned on all sides, 3 to 5 minutes.
STEP 2
Add tomatoes, salt, pepper, and any leftover flour mixture to the pan, stirring to scrape up any browned bits. Bring to a boil, stirring. Reduce heat to low, cover, and simmer until the chicken is cooked through, 20 to 25 minutes. Serve warm.
Nutrition Value
225 Kcal,
10g fat,
2g saturated fat,
2g fiber,
24g protein,
9g carbs