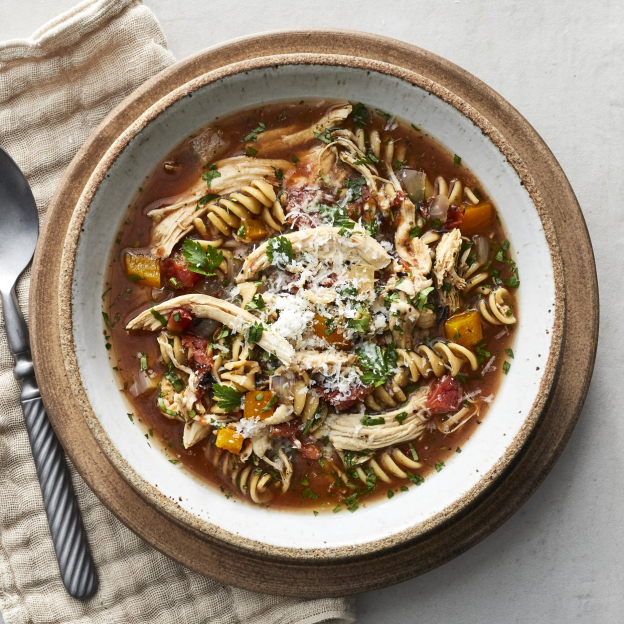 MEDITERRANEAN SLOW-COOKER CHICKEN NOODLE SOUP
This slow-cooker chicken noodle soup fits nicely into the Mediterranean diet thanks to plenty of vegetables, lean chicken breast and whole-wheat pasta. 
MAKES 6 SERVING/ TOTAL TIME 3 HOURS 50 MINUTES
INGREDIENTS
1 pound boneless, skinless chicken breast
1 (14 ounce) can no-salt-added fire-roasted diced tomatoes
4 cups low-sodium chicken broth
1 ½ cups chopped yellow onion
1 cup chopped orange bell pepper
4 cloves garlic, minced
1 tablespoon Italian seasoning
½ teaspoon ground pepper
¼ teaspoon salt
¼ teaspoon crushed red pepper
1 bay leaf
6 ounces whole-wheat rotini pasta
2 tablespoons chopped fresh basil
½ cup grated Parmesan cheese
METHOD

STEP 1

Combine chicken, tomatoes, broth, onion, bell pepper, garlic, Italian seasoning, pepper, salt, crushed red pepper and bay leaf in a 4-quart slow cooker. Cover and cook on High until the chicken is tender and an instant-read thermometer inserted into the thickest part of the chicken registers 165 degrees F, about 3 hours. Remove and discard the bay leaf. Transfer the chicken to a plate; let rest for 10 minutes. Meanwhile, stir pasta into the mixture in the slow cooker; cover and cook on High until the pasta is tender, about 30 minutes.
STEP 2
Coarsely shred the chicken and stir it back into the soup, along with basil and parsley. Ladle the soup evenly into 6 bowls; sprinkle with Parmesan and garnish with parsley, if desired.
Nutrition Value
256 Kcal,
4.8g fat,
1.5g saturated fat,
3.8g fiber,
23.7g protein,
29g carbs